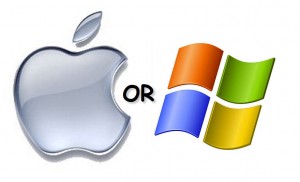 Last week I confessed that I am mostly a Mac guy these days and told you how that happened to me.  This week it's only fair to tell you that the journey was not without issues, some of which are still with me.
The most obvious thing that I had to deal with was learning a new operating system.  Mac OSX is NOT Windows.  Things that I had grown used to in Windows either are done differently or not all in the Mac.  I am very dependent on the right mouse button in the Windows world.  In the Mac world it is not used that much, although it is supported.  The iMac came with the "Mighty Mouse" which can do both left and right clicks, although the right click feature is turned off by default.  Once you know the trick it's easy to turn on, but I didn't discover how until after I had purchased a standard two button USB mouse at the office supply store.  Oh well.
The other "gotcha" is that most of our Multiple Listing Services need Internet Explorer 6 or 7 in order to have the availability of ActiveX controls.  That's a fancy way of saying that the MLS relies on some additional software that will only run on Microsoft Windows.  Back in the day when the old school MLS software providers were developing MLS software, ActiveX seemed like the way to go.  Today they could also accomplish what they need to do by using cross platform methods like Java.  Will they do it?  I don't know, so if you are on your local MLS committee start moving for the change.
Also, our friends at WinForms (ZipForms) require ActiveX controls so that their FormsViewer software will work.  CAR Directors take note!
Both of these would be deal killers for real estate agents wanting to use a Mac if it wasn't for the ability of Macs to run Windows.
If you recall, last week I told you that I started my wife off with Parallels on her iMac.  This worked reasonably well, but she did have the occasional issue with something not working quite right and I was often called upon to solve some obscure problem.  So, when I got my MacBook Pro, I installed VMWare Fusion and when I got the iMac, I did the same.  I eventually took Parallels off and installed VMWare Fusion on her iMac as well.  Anybody want to buy my Parallels license?
So far, for both of us, VMWare has proven to be the more stable of the two products and is the one that I recommend.
Neither of these products is free however.  You will need to plan on spending another $79.99 for VMWare (Parallels is priced similarly).
You will also need a full copy of Windows XP. (Or Vista.  Both will work)  This can be as much as $300 depending on where you buy it.  Then you have to install VMWare and then install Windows.  Both processes can be daunting if you have never done them before.
Additionally, you could "clone" your existing XP or Vista machine using the free VMWare Converter software.  This process copies every bit of your existing machine and turns it into something that VMWare can open and run on the Mac.  It copies XP or Vista and every file, picture, program, shortcut and link as well as any problems that might exist on the PC.  Parallels has a similar program although I never did get it to work.
So, unless you are adept with computers, the setup might best be farmed out to a technician who is knowledgeable and proficient with both PCs and Macs.
Once it is all set up, you now have two computers in one machine.  The native Mac running OSX and the virtual PC running Windows XP or Vista courtesy of VMWare Fusion.
When you need to run WinForms or need access to the MLS, you have to start VMWare and then start the virtual machine.  Windows starts and you can then run all the Windows programs that you have installed.  No problem if you cloned your old PC.  If you didn't do it that way, you'd have to install Office and any other Windows program you want.  The virtual PC can use the Mac's Internet connection, printer, speakers, camera and almost any other USB connected device.  Pretty sweet!
In Part Three I'll talk about some of the reasons why I believe the Mac is the way to go for real estate agents.
http://realtytechbytes.com/true-confessions-of-a-windows-user-in-a-mac-world-part-three/