I will freely admit that I am addicted to my gadgets.  My iPhone and my iPad have become so integrated with my life that they are never too far from me.  I've even been known to drive back home from my office when I have gone off and forgotten one or the other.  And that's a 30 minute round trip!
Since having these devices ready to go when I need them is important to me,  I have chargers at home, my office and my car.  I don't ever want them to be dead because they ran out of power.
So, when I was faced with a 14 and 1/2 hour flight to Australia in December I realized that I needed to come up with a portable battery solution.  After much research, I found a little company in Fremont, CA (New Trent) that offered the perfect solution.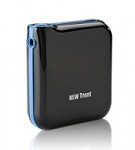 They offer a variety of batteries that will charge almost any phone or tablet.  The one I chose was the most powerful they offered, the New Trent iCruiser IMP1000, as it would recharge my iPad completely one time, or recharge my phone 6 times.
Here is a partial list of what it is compatible with from their website: 
New Trent iCruiser IMP1000 ~ 11000mAh External Battery Pack and Charger for iPad 2, iPad, iPhone (4S 4 3Gs 3G for both AT&T and Verizon phones), iPod Touch (1G 2G 3G 4G 5G), HTC Android EVO, Blackberry, Samsung Galaxy Tablet, Samsung Galaxy S, Droid, Nintendo, Sony PSP and much more!
I paid $99.95 for mine, but I see that it is currently being offered (as of 2-5-12) for $76.95.  Here is the link: http://www.newtrent.com/Best-iPad-Battery-Pack-iPhone-Battery-Extender-p/imp1000.htm
This battery gets my highest endorsement as it performed flawlessly in my tests.  After all, I was able to use my iPad on the plane for the entire trip!