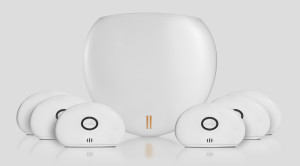 I'm about 75% of the way through a kitchen remodel.  I'm also about 90% of the way through a floor replacement project as well.  To say that my life at home these days is chaotic would be an understatement at the least!
The reason that I tell you this is because the disruption has got me to thinking that I don't want to go through this again.  Even though I chose (well, my wife actually chose to do this…I am just along for the ride!) to do this, and planned for it, I really had no idea how crazy making it would turn out to be.
But, what if you didn't plan for this?  How difficult would it be to have this level of disruption thrust upon you unexpectedly?  That's what would happen if you suffered a burst pipe over a long weekend away.  What if you had a slow leak in an out of the way area that didn't get discovered until mold or dry rot had taken over?  It's one thing to plan for a remodel, it's quite another to to have it forced in you.
So, when I discovered some new technology that could be used to warn you at the first sign of leaks, I got excited!
Take a few minutes to go visit http://www.wallyhome.com and see the innovative way this company has come up with to monitor the critical areas of your home and to warn you of excess moisture.
The product's key features are:
Monitors water, temperature and humidity
Wally detects water leaks as well as temperature and humidity changes in your home.
Sets up in a snap
Get coverage for your whole house in under an hour. You simply place wireless sensors around your home, connect them to the network using the Wally app, and just like that, your home is protected.
Always sensing silently
Wally constantly and silently monitors the health of your home, only alerting you when there's an issue that needs to be addressed.
Immediate alerts
Receive instant notification via text/email/push notification on your smart phone when a water leak is detected, or a temperature or humidity reading is outside the normal range of your home.
Always keeping you in the know
Constant detection and immediate notifications save you the expense and hassle of costly water damage and mold remediation.
Long battery life
Enjoy a decade of maintenance-free peace of mind. Using ultra-low power technology, Wally eliminates the power burn required by Wi-Fi or Bluetooth, and lasts over 10 years with no battery changes.
Small and convenient size
Wally sensors are small enough to fit in the narrowest of spaces so you can place them in all areas of your home.
Helpful hints
Find preventative maintenance tips and how-to's on the Wally blog.
According to the website a WallyHome kit costs $299.00 and it includes: The Hub, 6 Sensors, a Power Cord and an Ethernet Cable
In Order to use it you need to locate the hub near a wall outlet and an Ethernet connection.  You also need to be using a modern web browser on your computer.
Once you create an account, the website walks you through connecting the system and placing the sensors.
I've ordered mine and am looking forward to getting it in place once the remodel is finished!
It occurs to me that this would be a FABULOUS closing gift for you to give to your clients.  What do you think?