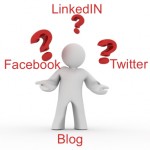 One of the best ways to increase your real estate business is by advertising.  We've known it for years and have utilized it in many different formats with varying results.
When I started in real estate print advertising was king.  We ran ads in the Sunday Real estate section of the local newspaper and daily ads in the classified section.  We also advertised in real estate magazines that consumers picked up in grocery stores.
These venues produced calls to the office or walk ins to the office or open houses, and that was the way we gauged their effectiveness.  No calls or walk-ins?  Time to change the ad!
The major problem with these types of ads (besides cost) was the lack of targeting, and the lack of ability to see if the ads was actually being seen.
Then we got the ability to run TV ads on local cable TV channels.  These allowed us to showcase ourselves and our listings, and had a certain degree of targeting available.  We could choose the time the ad would be displayed, but once again, we really didn't have any effective way of measuring success unless someone actually called or stopped by (and we thought to ask them if they had seen our ad).
Fast forward to present times.  We can still advertise in print (with the same issues as before) and we can produce our own "TV Shoes" via YouTube style videos.  We do get a bit more information on whether or not the TV "show" has been seen, but we really don't know if it was seen by our target audience.
But, today's REAL advertising opportunity comes in the form of Facebook and LinkedIn ads.  Both of these social networks allow us to target our audience by an astonishing number of factors which include (but are not limited to) zip code, age, gender, income, property ownership status, education level, family status and much, much more.
The dilemma that we now face is which social network site to use to run our ads.  I recently found a tool that I think will help make that decision a bit easier.  Navigate over to http://namify.com/target-social-media/ and check out their web based tool.
Once you get there you can see that you can use the tool to determine which social sites people are likely to use.  You can select by age, gender, ethnicity, income, and urbanity.
I have no idea how accurate the tool is, but I was able to uncover some interesting facts about what social platform to use by experimenting with checking different boxes or combinations of boxes.  Your mileage may vary, but I found this tool to be useful to confirm what I suspected about my target audience.  See what you think.