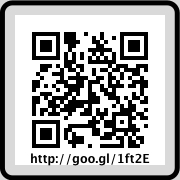 QR codes, which are the little black and white 2D bar codes you've probably seen popping up everywhere, can be quite beneficial to real estate agents. Instead of having to wait until they get in front of their computers to see what you have to offer, QR codes allow you to immediately direct consumers to your special offers, web pages, and other forms of media directly from their mobile phones.
Most people carry their mobile devices with them at all times, so implementing QR codes in your marketing strategy is a great way to capitalize on this massive audience. No other form of marketing fulfills that need for instant gratification like QR codes can.
This is especially true for mobile users who are accustomed to getting the information they want, when they want it, with just a few taps on their mobile devices.
QR codes allow consumers to become your followers on Facebook, to make purchases from your website, or simply get more information about your listings.
Here are some tips that your local business should know about using QR codes:
1. Make Your QR Code Offers and Content Irresistible – In order to be taken to your offer, URL, website, or whatever you have coded within your QR Code, users must scan it using their mobile device. So, you need to give them a great reason to do so.
2. Consider Adding a Short URL on the QR Code – So what about those people who are intrigued by what's behind your code, but cannot scan it for some reason? Maybe they'd rather visitor your site directly. If you place a small URL on the QR code, this will allow virtually anyone to participate in your offers.  Use bit.ly or goo.gl to shorten the url.
3. QR Codes Should Link to a Mobile Website – If you use a QR code to direct traffic to your website, send that traffic to a mobile version of your website and not your main website. Traditional websites that are not mobile-optimized take a lot longer to load than mobile-friendly websites. If you direct them to your main website and it does not load properly, this will reflect poorly on you.
4. Use QR Codes for Contact Information – A great marketing tip for using QR codes is to provide your direct contact information.  If you use a QR code on your business card or website it can allow the individual that is scanning the code to be able to save all your contact information right on their phone.  Of course, let your audience know what to expect when they scan the code.
5. Put Your QR Codes on All of Your Marketing Materials – Place your QR codes in many different places so you can get as many eyes on them as possible. For instance, you can place your QR codes on your business cards, flyers, signs, and even inside of your place of business. The more eyes you can get on your codes, the better.
6. Use QR Codes in Many Different Ways – Probably one of the most popular reasons for using QR codes is being able to offer discounts or coupons. However, they can do so much more. People who scan your codes can instantly receive information about your listings, download a v-card, view your virtual tour and a lot more. Get creative with it to see the true rewards of this great too.
7. Use More than One QR Code – QR codes are so versatile that you should create multiple codes if you really want to see results. You can use different QR codes for different listings. Or, you could use different QR codes for each marketing channel you use. Doing so makes it a lot easier to track results.
8. Use QR Codes for Direct Dialing – Do you want consumers to call your business right away? Encode the QR code so that when someone scans it, it will call your business automatically for them. This is a great call-to-action tool to use on your signs.
9. Know Your Target Audience – Be careful not to place your focus in all the wrong places when running QR code campaigns. Before you do anything, decide who your target audience is and create campaigns based around their needs and wants. Otherwise, you could risk wasting a lot of time on promotions that will flop.
10. Convert Them Into Customers with Quality Content – Give them a reason to become a loyal customer by providing them with captivating, unique content hidden behind your QR codes. The content can be promotional, educational, or entertaining as long as it satisfies their needs.
Connecting with your local audience can be a huge task to take on. However, due to the massive mobile market, using QR codes can help you tap into your local market and generate a hot new stream of passionate buyers. Many of your competitors probably still don't even know what a QR code is; so you have the advantage over them at this point. This is your opportunity to be the trend-setter with this growing mobile marketing power tool.
Need some assistance setting up and/or managing your QR code campaigns?
One of my specialities is in helping real estate agents (and other small businesses) connect with local consumers through QR codes.  Leave a comment to get in touch with me for a free consultation.