If you are one of the many California REALTORS® who use zipForms 6 Professional to create contracts, then you are probably at the end of your rope when it comes to the nearly incessant Java updates of the past few months.
If you are a Mac user you have discovered that Apple shuts off the old Java platform until the new one gets installed.  Of course this makes it impossible to use zipForms 6 Professional until you have not only downloaded the the update, but also installed it and activated it.
If you are a Windows user then you may have experienced slightly less difficulty with the program, but even so, you have been inconvenienced by it none the less.
I'm not here to discuss why frequent updates are necessary or even to discuss whether Java should never be used again, but I am here to tell you that zipLogix the creator of zipForms has released a new solution called zipForm Plus (beta)!  This was released on May 1st, 2013.
You can find it by going into zipForms 6 Professional as you always do (REALLY C.A.R.?   How about a direct link that won't require that old clunky interface?) and looking for the "Try zipForm Plus Beta" button (See above)
You can learn more about the product by looking at the 3 page Getting Started Guide

You can also watch a short video here (But turn off your speakers so you don't have to listen to the awful music…don't worry there is no voice over just really bad music!)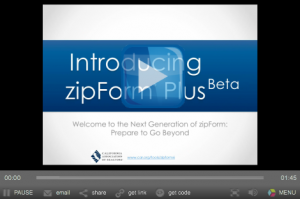 This upgrade to zipForms has been long overdue and in my opinion it is going to be one of the best things to come along since zipForms first came out!
After looking at it a few times I have a couple of suggestions for zipLogix and C.A.R.
Give me a direct login that I can use with my C.A.R. credentials…don't make me use the old interface to get to the new one!

Stop charging me for access to the existing zipForms 6 mobile app …unless you are using Flash in the zipForms Plus (Beta) there is no reason not to use the same interface for iPad access.  HTML 5 works perfectly well on iPads too.  And if you are using Flash on zipForms Plus, may I respectfully suggest that you stop?  HTML 5 is capable of replacing Flash.
But, all in all, this is a marvelous upgrade.  Agents, you owe it to yourself to try it out.  If you do try it and don't like it for some reason you can always go back to the old Java based interface…but you no longer get to complain about it!