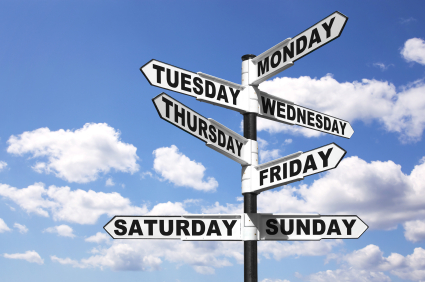 Let's pretend that you have never heard of social networking until just now.  And from what you have heard, you are excited because you have learned that you can use it to stay in touch with past clients, meet new prospects and also use it to nurture those new relationships until they are ready to move from interaction to transaction.  And all for very little money!
But how do you get started?  That's a great question because with so many choices available to you, deciding where and how to start is crucial to having the outcome that you want.  So, let's look at this as a seven day process.  You don't have to do all of this in seven consecutive days, you could do it all in one day, or you could spread it out over several weeks.  Each of these activities does build on the previous one, so for best results follow along as I present them.
Day One
Today we have to decide just what it is that we want to accomplish, and who we want to attract.  Start out with a clean sheet of paper and describe your ideal client.  Who are they?  Where do you find them? What do they need?  What do you have in the way of expertise or services that can give them what they need?  What is your USP (Universal Selling Proposition) or "elevator speech"?
Look to your past transactions to help you with this one.  Go over in your mind the characteristics of your most favorite past clients and see if you can find some common things that you can use as a gauge to measure future clients by…and do the same with the clients that you were glad to be rid of…as they will serve as examples of what happens when you work with the wrong people!
Don't skip this step, and get a really good description written down because we will use this information as we go on.
Day Two
Much can be gained by knowing what people are saying about you, your brand, your competitor and about their own lives.  But, how can you listen without being in the way?  As it turns out, there are loads of free tools available to help you.  One of my favorites is the FREE Google Alerts.  Just go to http://alerts.google.com and set up a search on your name to start.  Be sure to put your name in quotes and set up several different variations of your name.  Set up alerts for your brand, your competitors and your clients.
The information that you gain this way will help you head off problems as they occur.  You will also gain market intelligence on your competitors and on your clients.  All of this is possible because Google will send you an email with a link to what ever it finds as soon as it finds it!  In other words, this tool lets you set up Google to search itself on your behalf all on autopilot!
Day Three
Now it's time to set up a FREE Facebook personal profile.  Go to http://www.facebook.com and sign up for a new account.  Take the time to upload a personal picture and to fill in the information tab completely.  Facebook will ask you to upload your email address list from Outlook, Yahoo Mail, GMail and others.  This is a good idea as Facebook will tell you which of your contacts is already on Facebook, giving you the chance to send them a Friend Request.  You will also get a chance to send emails to your contacts who are not yet members of Facebook and ask them to join you.
Two caveats on this step.  When you send a friend request, be sure to check the option that allows you to add a personal message to the request.  This is where you can remind the person of who you are and why they know you.  The second caveat is to set up Lists as you go along.  Put all of your new friends into separate lists, such as REALTORS®, Past Clients, Family and so on.  This will be a huge help to you in making sure that the right people see the things you post.
Take the time to do this completely and you will soon see that you have grown a large group of friends.  Having a large group of friends is important to you because every time you post a status update, your friends will see it.  And if they should post a reply to your update, then their friends will see it and might decide to follow you too!
Day Four
Now that you have a Facebook Personal Profile, it's time to build a FREE Facebook Business or Fan page.  Why would you need both?  Well, for starters, the Facebook terms of Service prohibit the use of a personal profile for commercial purposes.  But more importantly, your friends will soon get tired of your constant "Look at my new listing" or "come to my open house" pitches.  And if they tire of you, it's way to easy to hide you or even worse, block you.
So, build a business page.  A business page is where you can "legally" promote your business to those who "Like" your business page. When you "Like" a business page, you are giving the owner of that page permission to market to you.
Click here: http://www.facebook.com/pages/create.php to build a page.  Follow the directions to create a Local Business Page, choose Real Estate or Professional Services and give VERY careful thought to the name of the page as you will NOT be able to change it later.  Since Google indexes all of the Facebook Business Pages, you might want to choose a name that reflects what you do, such as "Walnut Creek Real Estate" or "San Francisco Luxury Homes".
Use a different picture from the one that you used on your profile page so that people can tell which "voice" is speaking (When you "Like" your page, anything you post here will also show up on your home Wall.)
Fill in the profile completely, and for good measure, install the FREE Roost "Real Estate App".  You can find it at: http://apps.facebook.com/marketview/ This can be installed on both your personal profile and your business page.
Day Five
Take the time now to post at least 10 updates to your Facebook business page.  The reason for this is that when you invite people to come and become fans of your page, you'd like them to see an active page…one with good and interesting content on it.  How do you know what to post?  Remember back on Day One that you identified who your ideal clients were?  Now is the time to post content that they would find useful and valuable!  You can find things to use at http://www.car.org and also at http://www.Realtor.org.
Both organizations have content that you can take and use on your page.  So take advantage of it!
Once you have a completed page with content and the Roost app in place, invite all of your personal profile friends to come to your page.  Be sure to remind them to "Like" your page.  As soon as 25 people have done that, Facebook will let you have a personalized url that contains your page name.  Get your unique URL at http://www.Facebook.com/username
For example, here's mine: http://www.facebook.com/JerryKiddTrainingAndConsulting
Now, use this on your business cards, email signatures and so on.  Given that your target clients are probably on Facebook, it makes sense to direct them there instead of to any other URL.
Day Six
Facebook has it's uses but it's not the only social network that you need so don't overlook LinkedIn.
Go to LinkedIn and complete your FREE profile.  This is actually harder than it sounds because a complete LinkedIn profile contains at least two past employers, some school information and three recommendations.
Take the time to do it right so that people from your past jobs and schools can find you and connect with you.  As with Facebook, you'll be given the opportunity to upload your email address book from Outlook, Yahoo or Gmail.  I suggest that you do this as it really speeds the process of getting Connections along.
Day Seven (And every other day there after)
Just having a presence in these sites doesn't guarantee that you will get any visitors, interactions or business!  You need to take an active roll in "working" them.  What I mean by that is that you have to listen to what your friends and connections are saying, and where appropriate, jump into the conversation and add something constructive.
One super easy way to do that is to sign up at http://www.nutshellmail.com This FREE service will send you digests of everything that your friends and connections say on Facebook and LinkedIn (and others) at times of your choosing.  Then you just skim through what they said and "like" or comment as necessary.  It really speeds up the process of interacting with people. They also offer a FREE email newsletter tab for your business page that will keep your fans up to date on the changes you make to your business page.
You can also join Facebook Groups and answer Facebook questions as a way to meet new potential clients, and guess what, you can do the same thing on LinkedIn too.
So that's your social networking "week".  The heavy work is all done in the first week.  After that it's just setting aside 30 minutes to an hour a day for maintenance of your networks and posting new status updates.
You may have to re-arrange your day to get the time necessary to stay on top of your networks, but if you will do so, I am confident that you will reap the benefits many times over.
Be sure to go visit my Facebook Page and "Like" it so that you can stay current with my technology and real estate updates.  And don't forget to invite me to "Like" your business page and to connect with you on LinkedIn!  I'd love to get to know you.