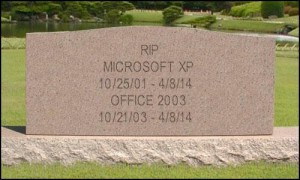 Sometime ago Microsoft announced that Windows XP would no longer be supported on April 8, 2014.  Here are the details: http://windows.microsoft.com/eos
In the same announcement, they also said that Microsoft Office 2003 has reached the end of its life and would also be unsupported as of that date.
What does this really mean to you if you are running either or both of these products on your home or business computers?  From Microsoft: "It means you should take action. After April 8, 2014, there will be no new security updates, non-security hotfixes, free or paid assisted support options or online technical content updates."
Personally, I have mixed feelings about this.  In my experience XP and Office 2003 were two of the best products to ever come out of Redmond.  But, time marches on, and in many ways XP has been left behind, in large part because of many of the new web based services that require browser updates that XP is incapable of achieving.
So what do you do?  As I see it, as a real estate professional you need your computer to do a few key tasks, as well as the usual task of web browsing, music library management and social media!  🙂
Here are what I see as key tasks:
Search and operate your MLS (which by now is most likely totally browser based.)
Use your contract creation software.  In California this is most likely zipForms Plus, but could be many others as well
Use electronic signatures such as Docusign, Authentisign and others
Email.  (If you use Outlook on your desktop and are running XP and/or Office 2003, you definitely should make a change)
Contact management software (TopProducer for instance)
Transaction Management Software
Here is the good news, all of these are now browser based.  What that means is that you can use any computer with an Internet connection and a modern browser to access them.  (A modern browser is Safari, Chrome, Firefox or Internet Explorer 10 or later…as long as you keep them updated.)
How do you actually make the decision as to what your next computer should be?  Again, there is good news.  You can pretty much use anything that you'd like.
For instance, if you just love using Windows, then Microsoft has several choices for you.  Windows 7 is proven and reliable, but is no longer available in retail stores.  To get a Windows 7 computer you have to purchase it online and specifically choose Windows 7.   Dell.com is a good place to see what is available.  Microsoft also offers Windows 8 (Recently updated to Windows 8.1)  Unfortunately, Microsoft moved away from the familiar desktop interface that we have used for decades, to it's Metro interface (which looks horrible in my opinion). Metro requires a learning curve in order to use it effectively.
Then there is the Mac.  In my opinion, if you have the money, this is the best way to go.  Apple simply makes better hardware than any other manufacturer on the planet.  For instance I am working on an 8 year old iMac at home and I have been using my 7 year old Macbook Pro on a daily basis.  Both machines can run ANY real estate, web based program that I encounter with ease.
Another choice would be a Chrome book.  This is basically a laptop look alike that does little more than run the Chrome browser in a machine that looks like a laptop…but isn't.  There is no hard drive and it lacks the ability to run any form of desktop software.  If you wanted to use Firefox for instance you couldn't.  But the price is right!
You may be tempted to replace your computer with an iPad with a dedicated keyboard.  This may be a good choice if your needs are modest and are limited to the available apps, and web based software.
So, how do you choose?  The answer is actually quite simple.  Budget.  What can you afford?  Macs are generally more expensive, next down in price are iPads, then Windows PCs, then Chrome books.  Make the choice based on your budget. But then take one more step before buying.  Visit Best Buy and actually use your intended purchase to do ALL of the tasks that you normally do with your computer.  Can you operate the MLS?  Can you write contracts and send them for an electronic signature?  Can you get and send email?  Can you do ALL of the tasks that you normally do?  If not, save up your money so that you can buy the proper replacement machine.
But, better hurry…April 8 is only a few months away!