On September 5th, I wrote about Nutshell Mail which aggregates everything social into an email. Today I want to briefly tell you about Social Mention which does a similar thing, but goes further to help you understand your reach and the sentiment that you evoke among your social graph.
I've included a screen shot of the home page. Click on it and it will take you there. Or just click here: http://socialmention.com/. You can check on yourself, your client, your competitors, your blog etc. with out signing up. Pretty handy for those times when you want to get a quick read on yourself or someone else.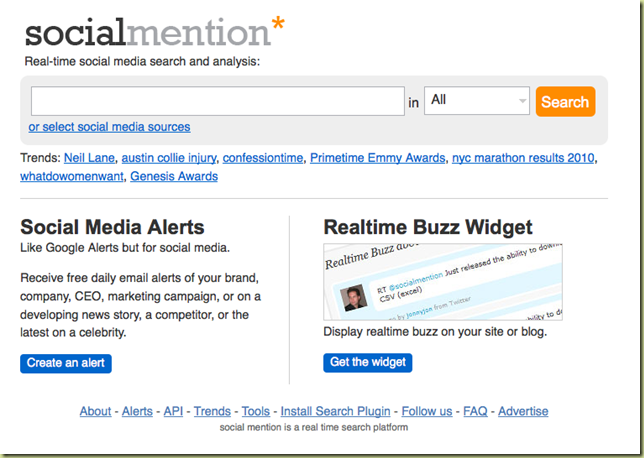 To set up alerts similar to Google Alerts (I talked about them in April of 2008 here) take a look at the following screen shot that allows you do a search and then have Social Mention run it continuously in the background. It will send you a daily email when it finds something.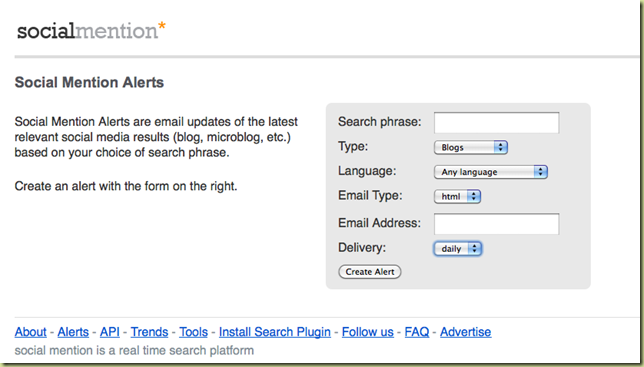 Have you set up your Google Alerts, Nutshell Mail and Social Mention yet? They are all free to use and can really help you stay on top of what is important while keeping the time necessary to do so at a minimum.