Real estate agents are called upon to provide many services to their buyers and sellers.  The services can range from finding that perfect property for their buyers to marketing a home for their sellers.  At the end of both processes there is an escrow to manage (Hopefully!) with all of the attendant inspections, reports, issues and negotiations that go along with a successful close of escrow.
Finding buyers and sellers to work with is perhaps the most important part of a real estate agents daily life because without clients to work with, there is no need for the agent's skill and knowledge.
Both aspects of what a successful agent does benefit from the proper use of technology tools.  Because I am a licensed broker (and am married to one) and because of my strong technology interest and background, I am often asked what tools an agent should have in their arsenal.  This post is going to look at the Top Ten Tools that I think every agent should not only have, but have mastered the use of as well.  I am going to split this into two parts, looking at 5 this week and 5 next week.
1. SmartPhones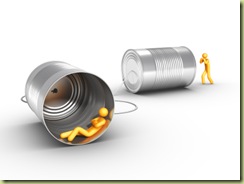 There is no question (at least in my mind) that the telephone has been and continues to be, the most important tool that any real estate agent can have,  Today, that really means that you need to have a SmartPhone.  By that I mean a phone that can not only make and receive phone calls wherever you are, but also send and receive email and text messages.  It also needs to be able to browse the web and open common documents associated with our business, like PDF files, Word docs and photos.
According to a Pew Internet and American Life Project Survey from December 2008, (The Future of the Internet III) "The mobile device will be the primary connection tool to the Internet for most people in the world in 2020".  If this is true, then your clients will not only be using this technology in their lives, they will have the same expectation of you.  It's now time to get rid of that old cell phone that only makes calls.
2. Laptop or Netbook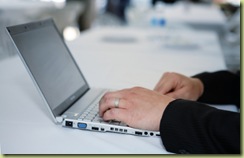 Our society is one given to an on the run lifestyle, we real estate agents have to be able to match the needs of our clients.  Gone are the days when we could always meet our clients in our offices so that we could access computers, files, phones and fax machines.  Today we need to be prepared to meet with our clients on their schedules, even if that means meeting them at their work, a coffee shop, the gym or even at their son or daughter's soccer game.
Today's laptop computers can pack the punch of a desktop computer and can do so very affordably.  A quick check of the ad flyers in the Sunday papers turns up a number of great laptops under $2,000.00.  For information on what to look for, see my previous article http://realtytechbytes.com/what-laptop-should-i-buy-in-2008/.
A new class of portable computer has come on the scene.  This new machine is typically less than 3 pounds with a maximum screen size of 10 inches.  They are known as netbooks and are capable of handling light weight computing chores like browsing the web, updating a blog, and sending and receiving email.  Typically they are equipped with Windows XP Home, 1 Gigabyte of RAM and 80 ~ 160 Gigabyte Hard drives.  Most have built in WiFi and web cams which allow you to connect to the Internet from public WiFi spots.  The webcams will allow you to create video messages to send to clients.  One of these would serve very well for the mobile real estate agent as they would perform most necessary tasks.  I wouldn't attempt to edit videos or do much work with photo manipulation as they are generally running hardware that is not up to the task.  The good news about these machines is that they are in the $300 to $600 price range!
3. Scanning and faxing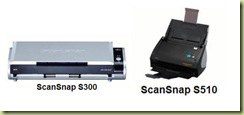 We live in a sea of documents.  There are contracts, reports, flyers, brochures, email and more that often have to be provided to clients for their signatures.  This works pretty well in our offices as most offices now have copy machines that can scan documents to email and or fax.  But, what do you do from the road or at your home?  This is where portable scanners come into play.
Fujitsu makes two versions of scanners that I really like.  The first is the S500 series of scanners that sit on your desktop and connect to your computer via a USB connection.  The device is capable of having 50 sheets of paper loaded into its input.  When you press the green button on the machine it connects with the computer and starts feeding each sheet of paper through it's two-sided scan head.  The resulting file turns up in your computer's My Documents folder as an Adobe PDF file.  If the originals are double sided, then both sides are scanned in one pass.  And, the machine also scans in color as well.  This is perfect for taking your documents and getting them into PDF format for emailing.  Fujitsu also makes a portable model, the S300 series, which has all of the same features (The input tray can only handle 10 documents at a time) yet will also fit into a briefcase making it the perfect companion to your laptop or netbook.  (There is no reason why you couldn't use the S300 series at home as well as on the road…it is at home in either role)

This is great for getting documents to your clients that have email.  But what about those clients who only have fax?  How can you get documents form your computer to a client who wants a fax?  The answer is simple.  Use one of the online fax services like MyFax, JFax, eFax and so on.  I use MyFax and heartily recommend them.  They all work in a similar fashion.  You connect to the Internet, and then navigate to their website.  Once there you log in to your account and select send a fax.  The service allows you to create a cover sheet and then select any document on your hard drive to fax.  A few clicks and the document is on its way.  You can also get a permanent incoming fax number that your clients can use to send faxes to you.  Once a fax arrives you receive an email with a PDF attachment of what was sent.  No more tyranny of the fax machine!  For more information on the ScanSnap and MyFax, please see a previous post that goes into greater detail: http://realtytechbytes.com/your-gift-to-you/
4.  Portable printers

Occasionally you just have to print something while you are out and about.  Some clients feel better having a printed document in hand rather than just an email.  Many times I am more comfortable in reading a printed document instead of reading it on the screen.  For that reason, I believe that a printer that fits into your briefcase is a necessity.
I have been using a Canon i80 printer for about 4 years now.  It produces photo quality color prints (on photo paper) but does a very good job on documents using plain paper.  It is no speed demon, and the ink tanks are small and expensive, but it has saved my bacon on many occasions.  It is also tough enough to handle the rigors of being transported around.  It got dropped one day and exploded into a pile of printer parts.  I scooped them up and painstakingly assembled them back into a printer and when I turned it on, it worked and has ever since!  The new model is the i90.  Hewlett-Packard also makes a highly regarded portable printer, the Officejet H470wbt Mobile Printer.  It comes in 3 models.  The base model, one with battery, and one with battery and a wireless connection.  For more information, please see my previous post at:
http://realtytechbytes.com/powerful-personal-portable-printing/
5.  AirCards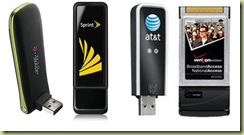 Although you can find WiFi in many places these days, it is not always available in some of the places that we find ourselves needing to work. Like your client's home!  Even if they have WiFi, do you really want to connect your computer to their network?  Attaching your computer to someone's personal network carries the risk of catching a virus from an infected computer on their network, or worse, you delivering a virus to their computers!  You really don't want to connect to their network and have a problem turn up for them later that they might blame you for either.
The solution is to obtain an AirCard.  This is essentially a "cell phone" for your computer.  It has its own phone number (although you will never dial it up) and it connects to a cell carrier's digital data network.  It acts like a modem for the laptop or netbook.  Some carriers allow your SmartPhone to act like a modem (Notably AT&T does not allow the iPhone to do this) so check with your carrier to see if your phone can do this and if so what the extra data plan (if needed, as your current data plan may cover this use) will cost.
All of the major carriers offer AirCards and in most cases they are simply USB "sticks" that plug into your computer's USB port.  They all come with software that you install and configure so that getting connected is easy once the device is set up.  From that point on you will have Internet access anywhere there is a cell signal.  It's worth noting that the connection speed drops off rapidly in areas with weak signals, so choose your carrier based on their service area.  Some carriers offer discounts if you already have your cellular service with them, so be sure to start your investigation with your current carrier.  And take your laptop or netbook to the store with you.  Most carriers are happy to set up the AirCard for you so that it is ready to go when you leave the store.
*******
That's it for this week.  Next week we'll take a look at the final five Tech Tools that make the list.