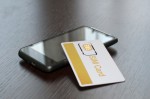 I spent most of the month of June in England, Wales and Ireland. I've been to England and Wales before (and Scotland) but I've never been to Ireland, so I was particularly looking forward to the trip.
As in past European adventures I was concerned about being able to stay connected to my business as well as keeping my wife connected to her business. She is a very successful real estate broker in our community.
On past trips I lugged along my MacBook Pro, my Fujitsu ScanSnap scanner and my Canon i80 portable printer…in other words I carried a portable office with me. This was because both of our businesses were heavily reliant on paper, and it was best to be able to print and scan documents that needed action.
Lately though, both of our business have migrated to the "cloud" and we find that having printing and scanning capability just isn't that necessary anymore.
So, for this trip I took along her iPad 2 and my iPad 2, as well as our iPhones. Prior to leaving I made sure that all of the iPads and iPhones were brought current with software and apps and backed them up in case of loss. I figured that the phones could handle day to day communication and the iPads could handle any other "computing" requirements.
My wife contacted AT&T and arranged for International Voice roaming for her iPhone, but did not arrange for International Data Roaming. I decided to have AT&T unlock my old iPhone 3 before I left (It has been out of service and out of contract since I bought my iPhone 4 nearly 2 years ago). I figured that when I got to London that I'd buy a prepaid sim card on O2, Orange, or Vodaphone, which is what I did. Then when I got to Ireland, I'd buy a prepaid sim card on the 3 network there. (Go here for info on unlocking your out of contract iPhone: https://www.att.com/esupport/article.jsp?sid=KB414532#fbid=ePZUp1aXOaK)
That plan worked perfectly! I was able to buy plans that had nearly unlimited data as well as nearly unlimited text messaging and a reasonable amount of voice minutes. The O2 card in London cost me £20 (which was about $30 US). The sim card in Ireland was about €20 (which was about $23 US).
I was able to use the iPhone 3 to pick up my emails as well as my wife's email. I could text from my phone and I had the advantage of being able to make toll free local calls which turned out to be extremely handy throughout the trip.
Contrast that with her experience. AT&T charged her .99 a minute for all calls, plus she was charged a flat fee to set this all up. If she had wanted to pick up email, she would have paid an additional fee. In order to keep her phone from trying to pick up emails while we were traveling, I turned off Data Roaming before we boarded our out bound flight. I turned it back on for her once we landed at SFO on our return. In between she was able to make and receive calls, but all email was handled on my iPhone 3. We turned both iPads on to Airplane mode for the entire trip.
When we found ourselves in areas with free WiFi, I turned that on for all phones and iPads.
I also took my iPhone 4 along on the trip, although it stayed in airplane mode unless there was free WiFi available. It went along because of it's superior camera (compared to the iPhone 3) and video camera.
All in all, the set up worked well. I found that neither of us used our iPads much at all. We were able to do everything that we needed to do on the iPhones. I also found that after using an iPhone 4 for nearly two years, going back to the iPhone 3 was extremely frustrating. The iPhone 3 has a slower processor and memory than the iPhone 4, and it sure showed while waiting for apps to load!
The good news is that my iPhone 4 goes off contract on July 10th and I will have AT&T unlock it as well. Then when we travel in the future, I'll install a local sim card into that speedy iPhone 4! (Anyone want to buy an iPhone 3?)
The moral of the story is that today's smart phones are truly pocket computers capable of doing things that used to require laptops in the past. The iPads are nice because of their larger screens and ease of data entry (we both have Bluetooth external keyboards), but in nearly 3 weeks of foreign travel, the absolute need for the large screens and keyboards just did not materialize.
What do you take when you travel? A laptop, a tablet, a smart phone? Or do you have some other scheme? Please share with us!