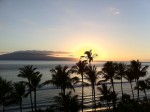 As I write thus, I am at about 30,000 feet above the Pacific and about 90 minutes from landing at SFO.  I just spent 15 wonderful days in Maui.  Nothing too remarkable about that except for the fact that this was the first such trip that didn't see me hauling along my complete portable office.  I did bring my MacBook Pro and an Asus EeePC Netbook.  The portable printer and the portable scanner stayed home.
I also brought my iPhone 4 and my wife brought hers.  And for much of the trip the iPhones were all that we needed to stay in touch.  In fact, Diane was able to complete some very complex negotiations on a high end lease, and also place one of her listings in escrow.
Although she could have used her iPhone exclusively for both transactions, she found it easier to use the netbook for the actual contract work.  The magic of Docusign allowed her to get the contracts done without the printer and scanner.  There is a Docusign iPhone app, but neither of us has it on our phones.  I suspect that if it had been on Dian'e phone that she would not have needed the netbook at all.
I put finishing touches on one custom Facebook business page tab for one client and also built another custom Facebook business page tab from scratch for another client using the MacBook Pro.
But, the real workhorse was the iPhone for both of us.  We made reservations at restaurants, took fabulous pictures and videos with the built in camera and I even recorded the soothing sounds of the ocean waves with the iPhone.
My mornings were spent walking the entire length of Ka'anapali beach from before the Hyatt Regency on the south end to well past the former Embassy Suites on the north end.  That's about a two ~ three hour walk round trip.  I've done it every day on every trip to Maui for the past 4 years and I was pretty confident that it was 10 miles round trip based on my pedometer.  But, with the built in GPS and the MotionX app I found out that my roundtrip is just shy of 7 miles…I've been deluding myself these past few years about my walking stamina!
The afternoons were spent lying out by the pool or on the lawn near the beach listening to the iPhone's built in iPod and reading books on it by using the iPhone Kindle app.  I merged my Amazon account with Diane's so that I could read her collection of Kindle books!
I used my bank's app to transfer money from one account to another to avoid some bank charges, used the built in Notes app to make a packing list for next year (I am slowly working my way to taking a 15 day trip to Maui in a carryon bag!), used the built in Weather app to plan some activities, stayed on top of the ALDS and NLDS scores via Safari and the ESPN MLB Baseball web site and approved some comments on my blog with the WordPress app.  I even played a few games of Solitaire while idling in the husband parking areas of local shopping sites.
Oh yes, I almost forgot…I made some phone calls as well.  Contrary to what some say, AT&T and the iPhone make perfectly good calls!
So. when someone asks me what phone should I buy, my answer is very simple…get an iPhone…I think that it's the perfect business tool!