Ever wanted to make a change on your social network accounts but didn't know where to look?  Things like adjusting privacy settings, changing account settings, upload pictures or videos and more are often a mystery.
Each social site has it's own way of doing things, and if you aren't making frequent changes, it's difficult to remember where to go to do what you want to do.
Some enterprising people have come up with a web site that makes the process drop dead simple for you.  They have created a site that asks "Where do you need to go?", "What do you want to do?" and then links you to the EXACT spot that you need to go on Facebook, Twitter, Google, Pinterest, LinkedIn, Orkut, Yahoo, MySpace, YouTube, Vimeo, Tumblr, MeetUp, FourSquare, StumbleUpon, Delicious, Flickr and Pandora.  That big list probably covers most of the social sites that we need to deal with!
Visit them at http://totalsocialcontrol.com/
Here is a screen shot showing what is available for Facebook.  The others are similar: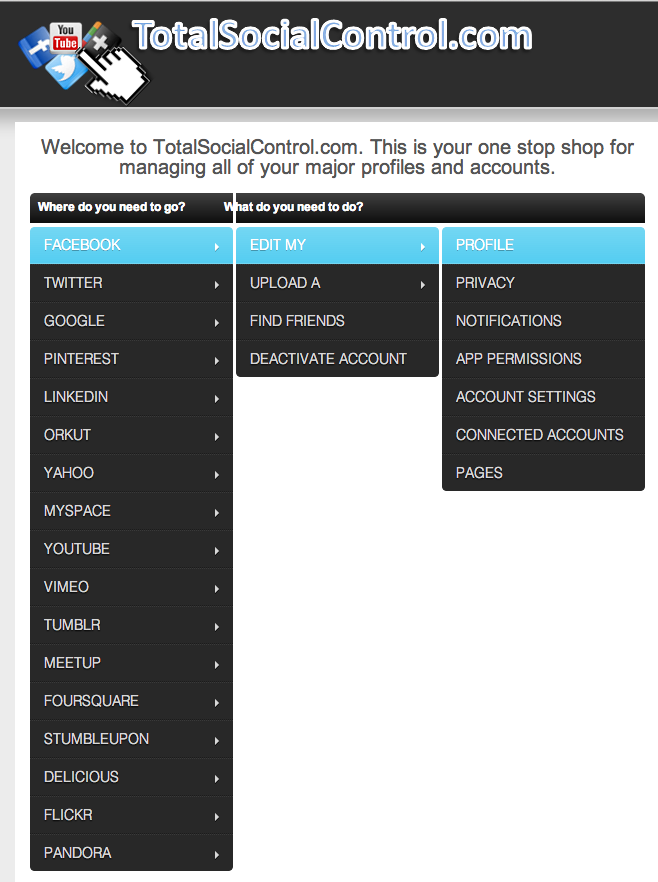 Be sure to visit this site and try it out.  If you like what you see, bookmark it for future reference.  I'm sure it will turn out to be one of those "how did I get along without it" sites!