Where did my day go? I just sat down to check my email and now it's dinner time.  Along the way I stopped into Twitter, Facebook and LinkedIn and before I knew it the day was gone.
Sound familiar? For many of us the allure of social networking is the ease by which we can stay in touch with family, friends and clients.  And we can even make new friends and find new clients all through the magic of sites like Facebook, Twitter and LinkedIn.
But, there is a danger, and I'm not talking about things like stalkers, viruses and other computer related things that go bump in the night.  What I refer to as danger is what happened to me recently.  I literally lost a day by spending so much time on my social networks that the day slipped by me.
I've been noodling around with the idea of coming up with a checklist of sorts to help me stick to the tasks at hand and avoid some of the temptations of spending too much time on non essential activities.  So, when I ran across Brad Hanks and John Mayfield's Social Media Accountability Scorecard I was elated.  Go here to get your free copy: http://RealtyTechBytes.com/Scorecard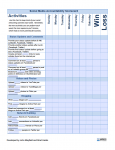 Brad and John have done a good job of isolating the social networking activities that will help your business.  It's a PDF that you can download and once you have it you can fill it in on your computer.  Or, if you prefer, print it out.  It looks pretty complete and I am sure that if you stick to it you will get a good handle on the the amount of time you spend in front of your computer on social networks.
There are two omissions though that I'd like to see rectified when they refresh the document. The first one is that there should be a field to record the date.  That way you can save them and see how you do over time and then compare your activities to results.  And the second one should be a field to record any appointments that you get as a result of your social networking activities.
After all, getting face to face with people should be the goal of any social networking activity in my not so humble opinion!
What's your take?