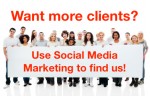 This is the second of a five part series of posts designed to get you thinking about using Social Media Marketing to find new clients and to strengthen relationships with your existing clients.
---
If you are still wondering whether or not you should join the Social Media explosion, you are probably losing potential business to your direct competitors who are using it. The question you should be asking yourself is "how" you should use these powerful networking sites to boost your sales and profits.
Social media has definitely gone to places we never thought it could reach in such a short amount of time. Initially starting out as a place for online socialization, social media networks have stepped onto the frontline when it comes to online marketing and advertising.
Before you decide which social networks to join, it is important that you look at the advantages of each one, as well as whether or not a large portion of your target audience is spending time there.
In most cases, most of your customers are using sites such as Facebook, LinkedIn, Google Plus, Pinterest and Twitter. Therefore, these sites should not be ignored.   
However, one of the most important pieces of the social media puzzle is "how" you interact with your audience. It is crucial that you do not bombard your audience with constant promotions and irrelevant information. If you do, they will quickly opt-out of your network.  
Focus on being consistent with your communications while providing valuation information and offers that your customers want to hear about. 
To build a following that will generate new sales for your business, the key is keeping your posts and updates interesting, informative, and engaging. Plan your strategy accordingly and you will soon have a strong, loyal social media following. 
It is quite difficult to understand why a real estate professionals would want to spend a fortune on conventional advertising when there are new and advanced methods that less expensive and actually generate results.
Social media is a prime example.   
Social media networks are websites that allow people to socialize or connect with friends, family or businesses. There are millions of users on the top social media sites, so they are a goldmine for connecting with consumers.
These sites are free to join and offer a wide variety of features that enhance easy connection and sharing of information. Businesses across the world are steadily joining the various online social media sites such as Facebook, Twitter, LinkedIn, Google Plus, Pinterest, YouTube and many others.
Social media networks are known to influence people, which is why they are so powerful when it comes to marketing. Print and electronic advertising are now financially out of reach for most small businesses today. Not only that, but they are no longer as effective as they used to be.
The good thing about social media that makes it superior to other marketing strategies is the ability for a business to interact with their prospects and customers "directly."
If you want to maintain your customers while attracting new ones, social media marketing could be the vehicle you need.
---
If you would like some assistance getting your Social Media Marketing campaigns up and running, contact me for a free consultation. I am NOT accepting new clients until July 2012 due to current commitments, but I will be happy to schedule a no obligation call with you prior to then.