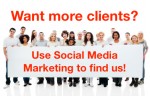 This is the fourth of a five part series of posts designed to get you thinking about using Social Media Marketing to find new clients and to strengthen relationships with your existing clients.
---
In a nutshell, social media network sites are used in many different ways by different people. Some use it to meet new friends; some use it to connect with existing friends and family; some use it as a means to simply share information with others.  
But what if this "information" was an advertisement for your business?
Social media networks are free to join, which gives them an immediate advantage over other marketing and advertising methods that usually cost thousands of dollars while generating minimal results.
If you are planning to use social media to market your business, there are a few steps you should take before jumping in. 
The first thing you need to do is conduct a research that will show you where your target audience is spending most of their time.  This will help you decide which social networks you should use to start building your social media marketing campaigns. 

After deciding which networks to use, you should take some time to learn about each network and identify the features you will use introduce your business to the community.  
Statistics show that many people will see something on social media networks and visit the related business if it is in their local area. 
Social media refers to websites that allow users to interact with other people by sharing information. Social media sites across the web have a massive amount of users: LinkedIn has around 100 million users, Twitter boasts of well over 100 million users, and Facebook takes the lead with approximately 900 million active users. 
These numbers alone show you the potential power that social media can bring to small businesses that want to reach out to consumers.   
For instance, if you had immediate, daily contact with 100 local consumers through social media, you will have the opportunity to build a relationship with them on a consistent basis. What could this do to your bottom line?
Not only that, but social media platforms are setup in a way that will allow your audience to do some of the marketing for you. For example, let's say you post a status update that involves new listings on your Facebook Fan Page. Your fans can easily share this with their friends, family, and other contacts with a click of a button. 
This is known as "going viral" in the social media world. Before you know it, this new product or service has been exposed to thousands of people; some who may end up contacting you for more information. 
To attract more attention, you can use coupons and special offers in your social media circle. Although many people will contact you just to redeem the offer, many of them may end up becoming future clients as well. 
Social Media is the one of the easiest ways to interact with your prospects and clients directly. Technology has made social media an inevitable phenomenon and as a real estate professional, there is no choice other than to embrace it and utilize its features to expand your business and increase profits.
---
If you would like some assistance getting your Social Media Marketing campaigns up and running, contact me for a free consultation. I am NOT accepting new clients until July 2012 due to current commitments, but I will be happy to schedule a no obligation call with you prior to then.