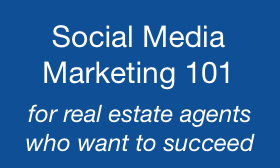 This is the third in a series of five posts on social media marketing for agents.
Social Media Considerations for Agents
If you are still wondering whether or not you should join the Social Media explosion, you are probably losing potential business to your direct competitors who are using it. The question you should be asking yourself is how you should use these powerful networking sites to boost your sales and profits.
Social media has definitely gone to places we never thought it could reach in such a short amount of time. Initially starting out as a place for online socialization, social media networks have stepped onto the frontline when it comes to online marketing and advertising.
Before you decide which social networks to join, it is important that you look at the advantages of each one, as well as whether or not a large portion of your target audience is spending time there.
In most cases, most of your customers are using sites such as Facebook, LinkedIn, Google", Pinterest and Twitter. Therefore, these sites should not be ignored.   
However, one of the most important pieces of the social media puzzle is how you interact with your audience. It is crucial that you do not bombard your audience with constant promotions and irrelevant information. If you do, they will quickly opt-out of your network.  
Focus on being consistent with your communications while providing valuation information and offers that your customers want to hear about. 
To build a following that will generate new sales for you, the key is keeping your posts and updates interesting, informative, and engaging. Plan your strategy accordingly and you will soon have a strong, loyal social media following. 
A Few Social Media Tips for Agents
In a nutshell, social media network sites are used in many different ways by different people. Some use it to meet new friends; some use it to connect with existing friends and family; some use it as a means to simply share information with others.  
But what if this information was an advertisement for your business?
If you are planning to use social media to market your business, there are a few steps you should take before jumping in. 
The first thing you need to do is conduct a research that will show you where your target audience is spending most of their time.  This will help you decide which social networks you should use to start building your social media marketing campaigns. 

After deciding which networks to use, you should take some time to learn about each network and identify the features you will use introduce your business to the community.  
Statistics show that many people will see something on social media networks and visit, or contact the related business if it is in their local area. 
Next week I'll explore some more features of social media marketing for agents.