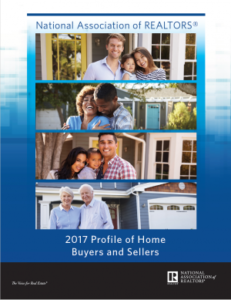 Every November the National Association of REALTORS® gets together to celebrate all things REALTOR®, debate issues, come up with new ideas and party like mad.  All of which is only of mild interest to me.
But, one thing does happen during this annual convention that I find absolutely essential to every REALTOR®.  And that is that the annual profile of home buyers and sellers is published and released during the annual convention.
In their infinite wisdom, NAR makes it very difficult to actually get your hands on this document by burying it in the realtor.org website instead of proudly putting it front and center on their home page.
To save you some time and grief, here is the direct link to where you can get it: https://store.realtor.org/product/report/2017-profile-home-buyers-and-sellers-download?sku=E186-45-17
If you are a REALTOR®, you can get the PDF download for $19.95 plus tax. If you are not a REALTOR® owning a copy of this report will cost you $149.00.  (In other words, you need to know your NRDS number)
So why do I think that you need to own this?  Here is an excerpt from the sales page that outlines what you are getting:
This updated profile includes:
• Who are today's home buyers and sellers?
• Do they use the services of a real estate professional?
• What role does the internet play?

These questions and many more are answered in this newly released profile of home buyers and sellers.  This valuable tool provides the answers in a user-friendly format, designed to allow easy comparisons with previous studies, using a mix of charts, graphs and tables.

Chapters Include:
• Characteristics of Home Buyers and Homes Purchased
• Home Buying and Selling and Real Estate Professionals
• The Home Search Process
• Financing the Home Purchase
• For Sale By Owner Sellers
If you will take the time to read and study this report, you will come away with a greater understanding of what home buyers want and need from their agents (and may not be getting) as well as learn how people choose the agents they work with, why they didn't choose the agent that they last worked with (hint: it's not what you think), and how many agents people actually interview before choosing an agent.
Don't be cheap.  Go get it now.  You can thank me later.