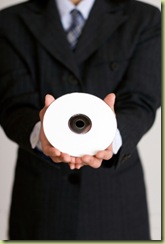 Over the last three weeks I have been talking about how a real estate agent can make a living in the Web 2.0 world. We started by setting the stage, talking about phones, then computers.  This week I want to talk about the software that you will need on your computer.
There is a wide variety of software that you may wish to have including photo editing, PDF readers, money management, screen capture, MLS, ZipForms/Winforms and so on.  But, in my opinion, the most important piece of software is the contact manager and calendar software.
I still see agents walking around with paper calendars and paper contact lists!  Some of those same agents even have smart phones!  When asked, they often cite the fact that it's easier and quicker for them to look at their contacts and calendars that way.  I think I felt the same way until I learned how to really use contact management software.  Also, if your paper calendar or contact list get misplaced I don't know how you would ever recover from such a disaster.
Given that we live and die by our appointments and contacts it makes sense to do everything you can to maintain a handle on your time and contacts.  So. let's take a look at what is out there.  Although this list is pretty comprehensive, it is not exhaustive.  If you are using something that I didn't talk about, please feel free to tell us in the comments.
There is a pretty wide universe of software available to help you corral your contacts and calendar.  Some is free, most isn't.  Some is web based, some runs on your computer.  All of them allow you to synchronize the data with your smart phone so that you always have it with you(Exceptions are Open Office and Palm Desktop which only syncs with Palm Devices).  Aside from the financial hardship of losing a smart phone, your data is still available to you and so the loss is not nearly the disaster the loss of your paper records would be.

Let's start with the de facto Gold Standard of real estate contact management, Top Producer.  This product has been around for nearly as long as I have.  In it's current iteration, it's an online product and is available by monthly subscription.  It manages contacts, calendars, creates campaigns, flyers, marketing materials and also integrates with your MLS.  Also, your data is stored and backed up on Top Producer's servers which alleviates your need to perform backups. It starts at $39.95 a month and goes up.  This is a very good product that a lot of agents swear by, but it does have a steep learning curve if you want to get the full benefit of the product.

Another very good product is Agent Office.  This one is a software that you install on your computer.  It performs almost all of the same functions of TopProducer.  One of it's key points is that your data is not in someone else's hands – it's on your hard drive.  It also has a steep learning curve which you must accomplish if you want to get the most out of it.  Currently it sells for $299.00

Next up is Microsoft Outlook.  It is part of the Microsoft Office Family of products.  If you have any version of Office (Except Home, Family and Student) you have Outlook.  The Standard version of Office is $399.95.  (Upgrade versions which will take you to Office 2007 are $239.95).  If you don't want the Microsoft Office product, but you'd still like Outlook, you can buy Outlook as a standalone product for $109.95.
Why would you want Outlook? Well, for several reasons.  Outlook combines an email client (It will pick up Exchange, POP3 and IMAP4 email), a Contact Manager, a Calendar, Notes and a Task Manager all into one interface.  That means that you can get most of what you need in a day by staying within one piece of software.  The downside of Outlook is that it is not easy to customize, so if you wanted to have real estate specific fields in your contact manager, you would find that hard to do.
However, there are two add on products for Outlook that once purchased and installed along with Outlook, will give you TopProducer and AgentOffice like functionality.

The first one is Active Agent from Sonoma Enterprises.  This is a $299.00 product that overlays Outlook with real estate specific fields in the Contact records and allows you to create and manage campaigns.  A campaign is an automated work flow that essentially puts your business on autopilot.  Once you enter a Contact and select a campaign, the program takes over and automatically will schedule calls, appointments, letters, postcards and so on for you.

The other Outlook add-on is Respond from Pat Zaby.  It is currently $299.00, although the web site says that is a "Sale" price down from $399.00.  It does many of the same things that Active Agent will do to Outlook.
The big advantage to these two products is that if you already own Outlook and are familiar with using it then the learning curve will not be as stiff as it would be if you were learning a new piece of software.  In other words, you'll be able to put them to work quicker!

Finally, let's talk about a couple of free products.  We all need a word processor for writing letters and reading letters sent to us by others.  But, Microsoft office is a very expensive piece of software.  This is where Sun Microsystems free OpenOffice comes in.  It's a free download that Sun claims is completely compatible with Microsoft office.  In other words, if you have OpenOffice you will be able to open documents created in Microsoft Office and people with Microsoft Office will be able to open and read  documents that you create in OpenOffice.  Not a bad deal for free!  It does not have an Outlook like equivalent, so for that you may wish to purchase a stand alone copy of Outlook.

If all you want is a basic Contact manager, Calendar, To Do List and Notes manager, then you may find that the free Palm Desktop software is perfect for you.  It was designed to allow users of Palm's PalmPilot, Pre, and TREO telephones to have a desktop way of entering data.  But, you do not need to have a Palm device to download and use the software.  If you do have such a device then you already have the software.  It may not be installed, but it is on the installation CD.  Palm places no restrictions on who can download and use the software, so if this works for you, go and get a copy.
Click on the various logos to go get more information on the products that I have discussed, and by all means, if you are not using something these products now, please get started.  It's crucial to not let someone fall in the "cracks" and you never want to miss an appointment!
Next time we will start looking at social media in a real estate practice, so in preparation why not reread the previous three posts to make sure that you are up to speed?  And by all means, tell all of us what you use…and why.