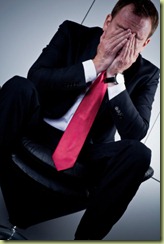 According to the USGS, the dinosaurs went extinct about 65 million years ago. (Here is the link http://pubs.usgs.gov/gip/dinosaurs/extinct.html)
That same source claims that they had a good long reign of about 165 million years. That's certainly long enough that if there were any sentient dinosaurs then they probably believed that they would be around for another 165 million years. As far as the average dinosaur was concerned there was nothing to worry about.
Oh sure, there was the daily grind of escaping from predators and finding enough food and water to sustain themselves (we haven't found any evidence of pre-historic fast food joints as far as I know), but for most of them it was business as usual I am sure.
Then it all ended. If it was by a gigantic cataclysm, then they never knew what hit them. But, maybe it was a climatic change that occurred over several years. In that case our sentient dinosaurs would have been worried about the future. Maybe there were even some far thinking dinosaurs that sounded the alarm, trying to get others to prepare for a new way of living. I've heard both the cataclysmic theory and the climate change theory. It doesn't matter, the dinosaurs are gone. They either didn't or couldn't adapt.
There is a lesson to be learned here for us.
In February of 1908 the National Association of REALTORS® was founded according to NAR (http://www.realtor.org/library/library/fg002) so that means that organized real estate has been around for 102 years and will celebrate 103 years in February. I am unable to determine when the first real estate license was issued, but lets just for the sake of argument assume that we have been doing real estate essentially the same ways today as we did over 100 years ago. You know, brokers, agents, listings, yard signs and so on.
One could almost assume, like our sentient dinosaur, that things could go on this way indefinitely. But, if we assume that, I think we face the same fate as the dinosaur. Extinction.
Oh yes, we have survived Bill Chee's "Hungry lion coming over the hill" but not without much posturing over ownership of listings and big brokers vs. small brokers and who knows what else.
But there is so much more that is worrisome to me. Here are a few:
Most of us fight technology adoption.
This used to puzzle me. But, I kind of get it now. We just don't want to spend the money or the time it takes to acquire and learn the new tools because it has been proven to us that in short order we'll have to go through the process again.

We forget that the clients of the future will be using these tools because for them they will be the tools that they grew up with and are comfortable in using.

We don't get training even when it is free
This one still puzzles me. Why doesn't every agent have a CRS, GRI, ABR, SRES, ePro, LTG and so on? Why doesn't every broker have those same designations/certifications AND a CRB? Why do agents sign up for classes and fail to show up?

What do we do with our time?
I've been at this since 1986. I was very successful as an agent after a slow start. Things got better for me when I got better. In other words, I learned a system that produced leads for me and then I got good at presentations. Then I got good at negotiation, then I got good at problem solving. Then I got stupid and took a job as a manager. (Sorry, had to toss that one in there) As a manager, I saw very few agents that were willing to do all of that, consequently, few made 6 figure incomes. Yet, they were always "busy". Doing what? What do you do all day? I know that it isn't prospecting for new business…

We aren't listening to consumers
Do we really believe that the consumers care about our new listing? Do we understand that they care about the listing that is important to them and not our latest project?

When I ask agents who their ideal client is, I get a variety of reactions ranging from blank stares to "any one who wants to buy or sell a house." To get a sense of why this is wrong, read this article by Carrie Gable on Mr. Internet's blog:

http://blog.onlinedominance.com/finding-your-real-estate-niche/

(Well done Carrie)

We want the magic bullet.
Folks, there is no magic bullet. There is no tooth fairy and there is no Santa Claus. Success in our business is going to come from a variety of things that include but are not limited to: technology adoption, honing our skills, listening to consumers and then spending the time it takes to deliver the right products and services to the right consumer.

Are you up for it? Or will your bones be dug up and placed on display in some future Museum of Natural History as a fine example of that extinct species known as a real estate agent?

If you are still a reader, come back next week and I'll have some ideas on what I think you can do.