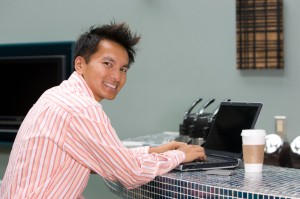 As real estate agents we have learned how to work away from our offices and to provide our services wherever the customer happens to be, at their home, their office or even at a local coffee shop.
One of the factors that has contributed to that mobility is the nearly ubiquitous presence of WiFi.  Although though WiFi may be present, in our customer's homes it is not prudent to connect your computer to a customer's network.  The reason I say it's not prudent is because you open yourself up to catching a virus that may be on their network, and you surely open yourself up to being accused as the cause of any future problems the customer may experience on their network after you disconnect and leave.
This is where the AirCards came into play.  You purchase such a card from Sprint, Verizon, AT&T or T-Mobile, subscribe to a data plan and use the "card" with your laptop to access the cellular data networks.   These work pretty well, allowing you to plug in the card, fire up the connection software and eventually open your browser or email client.  If you are in a location with your client that does not have WiFi available, or if you didn't want to use a WiFi signal that may be available, this was your only solution up until very recently.
If you wanted to share your AirCard connection with another person, this was not possible…they would need their own device, or you would have to disconnect and physically move the device to the other computer.  Then install the proprietary connection software on the other computer before they could use your AirCard.  When they were finished, you had to retrieve your device or risk losing it.
Enter a new breed of device called a Cellular Router.  These devices allowed you to plug your AirCard into the body of the device.  It then used the AirCard to establish a connection to the Internet and then it would transmit a WiFi signal to multiple nearby computers.  This was a good workable solution that would solve two problems, namely working in an area without WiFi and being able to share the connection with multiple computers simultaneously.
Although it is a good solution, it requires two devices, the AirCard and the Cellular Router.  You could pay upwards of several hundred dollars for the router plus the cost of the AirCard and it's monthly data plan.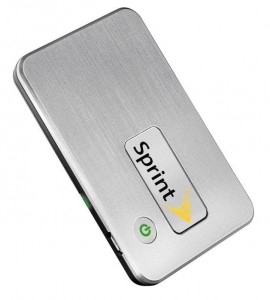 Recently Novatel has released a credit card sized device that combines the AirCard and the Router into one device.  As of this writing, it is only available on the EVDO network which is the one utilized by Verizon and Sprint in the US.  Novatel has also released a model which will work on the HSPA network used by AT&T and T-Mobile, although I have not seen it on either carrier's website as of this writing.
After examining both Verizon's and Sprint's offerings via their websites, I opted to make the purchase of the Sprint unit, but bought it through http://3Gstore.com.  They are authorized agents for both Verizon and Sprint and have posted reviews of both the Verizon and Sprint versions.  It was their opinion that the Sprint version was the better implementation of the two (and buying the Sprint version through them was nearly $50.00 cheaper than the same thing at the Sprint website) so I purchased the Sprint one on a two year contract with a 5 GB per month data plan.  Overage is billed at .05 per MB which is less than  Verizon's overage charge according to 3GStore.
So, what's the point?  For me it's convenience.  I get to carry my own private mobile hotspot that I can share with up to 4 others if I wish.  It will provide WiFi to my Windows machines, my Macs, my iPhone and any other WiFi enabled device that I wish to share it with.   It has a battery rated at 4 hours, can fit into a pocket or purse and does not need to be physically attached to the computer.  This means that I just open my computer and connect to it's signal as I would any other WiFi enabled hotspot.  In other words, after the first time connection my computer "remembers" the device as a trusted hotspot and just connects.  No fussing around with an AirCard and the connection manager software.  Connection speed is a maximum throughput of 3.1Mb/s download and 1.8Mb/s upload.  It is also GPS capable which will make it work with location aware websites and services.  I can see this being useful with the mapping services that I tend to use.
For the security conscious among us it comes with high level security including WPA2-PSK, WEP and SPI Firewall.  The User-replaceable Lithium-Ion battery provides up to four hours of run time and 40 hours standby.  It's vital stats are 3.50"x 2.32" x 0.35" and weight: 2.05 oz.
The final "kicker" for me was that with this device, my iPhone running Skype will be able to make and receive Skype calls on the Verizon network.  I now have a phone that should work for me even if the AT&T network is down.
Can you imagine using one of these at an open house?  Or allowing your client to access the Internet while you are driving around in your car showing houses?  I think this is another device that will streamline the way that we do business and will also be a differentiator that further divides the connected agent from the technophobes.
Have you got one of these?  If so, leave a comment and tell us how it's working out for you.