On June 27th I told you about a solution that I was using to solve the almost non existent AT&T coverage in my office. Here is the link to that article in case you missed it: http://realtytechbytes.com/solve-poor-att-reception/

It actually worked quite nicely, until you picked up the phone. Once you did that, and took the phone out of the zPocket Wireless Range Extender YX-110 the signal would drop off to nothing and the call would drop.
The following week I told you what my solution was to that problem…a bluetooth adapter that allowed me to use a regular desk top telephone via my iPhone's bluetooth adapter.  That works very well too.  If you missed that article, it is at the following link:
http://realtytechbytes.com/use-your-cellphone-with-your-home-or-office-phone-system/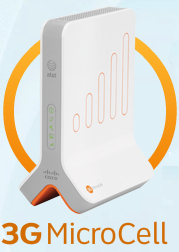 But, I was intrigued with a new product from AT&T called the 3G MicroCell™.  Here is what AT&T has to say about what it is: "AT&T 3G MicroCell acts like a mini cellular tower in your home or small business environment. It connects to AT&T's network via your existing broadband Internet service (such as U-verse, DSL or cable) and is designed to support up to four simultaneous users in a home or small business setting."
Essentially, you plug this device into a. power outlet, connect a network cable between it and your router, and it becomes your own private cell tower.  There are some detailed steps to take to get it activated, but the instructions are clear and detailed enough so that the average user could get it done.  The part of the activation process that you are involved in only takes a few minutes.  But, it takes the device about an hour to finish the process in the background as it communicates with the AT&T network
It has to know where it is, so it needs to be a able to "see" a GPS satellite in order to get a GPS signal.  This was of some concern to me as I have an inside office with no windows facing outside.  Across the hall from my office is an office with outside windows and there was sufficient GPS signal getting to me that the device could get enough of a GPS signal to connect.
Here are some additional facts from the AT&T web site:
Device Features:
Enhanced coverage indoors – up to 5000 square feet.
No required additional monthly fees – just use the wireless minutes and data from your existing plan.
Available  minute voice feature.
3G handset compatible – unlimitedworks with any AT&T 3G phone.
Supports 3G data services for customers without Wi-Fi capable handsets*.
Device is secure – cannot be accessed by unauthorized users, easy and secure online management of device settings
Seamless call hand-over – start calls on your 3G MicroCell and continue without interruption, even if you leave the building.
Device Requirements:
3G wireless phone
Broadband service over U-Verse, DSL or cable
Computer with Internet access for online registration

Additional Information:
Installing your device near a window is strongly recommended to ensure access to Global Positioning System (GPS). A GPS link is needed to verify the device location during the initial startup.

The 3G MicroCell is portable and may be moved, provided the new location is within the AT&T authorized service area and properly registered online.
Additionally, it can have up to 5 devices connected to it at once. When you set up the device, you tell it which phones are allowed to connect.  Those are the only phones who will be able to use it, so you will be able to feel secure in using it.
The phone seamlessly connects to the MicroCell when you enter it's range. If you are on a call that is routed through an AT&T cell tower when you enter the range of the MicroCell, you unfortunately stay on that tower.  In my case, this means a dropped call.  But, if I begin a call on the MicroCell, and then leave my office, it is handed off to the nearest cell tower seamlessly.  So, I can start a call in my office and hit the road with the phone and keep the call alive.  I just can't do the reverse.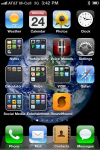 Here is a screen shot of my iPhone 4 connected to the MicroCell. (Click on the picture to see a larger picture)  Notice that where it normally says "AT&T 3G" that it now says "AT&T M-Cell 3G".  Notice all of those lovely bars!
I've been using it with my iPhone 4 for a few weeks now with no problems, and with 5 bars of signal too.  Which means I can get rid of my zPocket device.  Any one want to buy it from me?  🙂