You may be thinking that it is time to replace that aging computer.  And, since back to school sales will be starting soon, it's best to do your homework now so that you know what you want to buy before the sales start.
If you are a Windows user, why not consider upgrading your computing experience and get a Mac this time?  Even though I hold 3 Microsoft Certifications, I would urge any one to just say no to Windows and to make the move to Mac.  I did in 2007 and haven't looked back.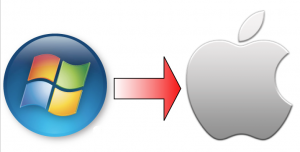 Many folks that I talk to about this want to make the move but they are concerned about having to learn a new computing system.  Since all Windows based computers now come with Windows 8 installed, staying with Windows means that you will be learning a new system anyway.  Windows 8 is just that much different from what you have been used to using.
To make the transition as easy as possible, Apple has assembled a series of video and text tutorials which will walk you through every aspect of using a Mac before (or after) you make the change.
If you live near an Apple store, I would suggest a visit to the store.  There you can get your hands on the latest Mac laptops and desktop computers.  You can talk to knowledgeable sales staff and even try out your favorite programs, like zipForms, Docusign and the MLS. Here is the complete list of Apple stores: http://www.apple.com/retail/storelist/
Here is where you can go to see tutorials on how to make the switch: http://www.apple.com/findouthow/mac/
Apple also has a resource to help you decide on a Mac at:  http://www.apple.com/why-mac/
You can attend free workshops at Apple retail stores. They also offer one to one personal training sessions to help you get up to speed.  You can attend the free workshops even if you don't own a Mac. More information here: http://www.apple.com/retail/learn/
Although it sounds like I have become a complete Apple fan-boy, please rest assured that if something else came along that was a better value and was as easy and secure to use as Macs, I'd be telling you about them instead!
The only fly in the ointment as far as I am concerned is that they hardly ever go on sale.  So, even though the back to school sales are coming, you won't see a sale on Macs.  But, that doesn't mean that you have to pay retail!  Apple has a refurbished and reconditioned store at: http://store.apple.com/us/browse/home/specialdeals and if you have a student (or if you are a student) with a .edu email address, you can get special student pricing.  Go here for details: http://store.apple.com/us-hed/findyourschool
It's worth taking a look at getting a Mac, wouldn't you agree?