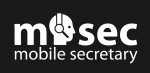 iPhone and Blackberry users can sit this one out, as it's all about a cool new Android app.
For the past few months I have been in an email dialogue with Bernard Huang who is the CEO of Mosec, a startup based in Providence, Rhode Island.
We've been discussing his app that is aimed at real estate professionals and seeks to provide a tool that will help agents get a better handle on their communications with prospects, clients and others.
The latest version of Mosec hit the Android App Store early last week and is available for downloading now.  It's a free app and you can get it here: https://market.android.com/details?id=com.getmosec
In Bernard's email to me that told me about the launch he said, "Mosec's goal is now to help REALTORS® communicate and follow up better by letting them take notes, schedule appointments or remind them to call back later after calls." More information is available on the Android site. 
Given that it is free and it seems to provide a useful service, I think that if you are an Android user you'd be missing the boat if you didn't go get it now!
Disclaimer:  I don't have an Android phone as I am a died in the wool Apple fanboy!  So, that means that I haven't tested it out.  However, you could test it and report back!  I am sure that Bernard and his team would love to hear constructive suggestions as to how to make this product even better.  And if he hit a home run on this one I know he'd like to hear that too!  You could leave your comment here, or at Mosec's blog at http://blog.getmosec.com/