Ok, now that was a weird title for this post wasn't it?
I thought I'd combine the names of the two products I want to tell you about and make a title out of it.  It either caused you to open the post right away because you were curious, or caused you to pass (in which case you aren't reading this!).

We'll start with BounceBack Essentials.  This is an inexpensive backup solution for you.   Hopefully you are all using some form of backup already.  You could be using an online backup, or a portable hard drive, you could be backing up to a remote computer, you could be copying files to a USB stick or even burning CDs. With all the back up solutions that are available, why would you be interested in yet another one?
All of those solutions are great and they all have a place where they shine.  But, none of those solutions will get you up and running immediately once a disaster occurs.  BounceBack Essentials is a $29.00 software program for Windows (A Mac version is available for $39.00) that uses an external hard drive to make an exact duplicate of your computer on the external drive.  The major selling point, in my opinion, is that BounceBack Essentials makes that external drive bootable!  This means that if your main drive fails, you simply choose to boot from the backup drive and continue working!  You can choose to restore your system immediately or at a future, more convenient time.
Watch a short YouTube video which explains the process, and then click on any of the links above to learn more:
The next thing I want to tell you about is Measy.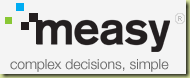 Measy is a website that can help you make decisions about buying HDTVs, digital cameras, DSLR Cameras, netbooks and SmartPhones!  It does this by asking you to work you way through an interview that asks you questions about your preferences and expected use of the device you are researching.
They then display a ranked list of devices that they believe will fulfill you needs.  Each of your criteria is explained and backed up by research that they have done on the web by using product reviews.
So, rather than be baffled by the plethora of choices that confront you when you are shopping for a gadget, check out Measy to see what the experts have to say!
Since this is a beta site, expect changes to come in the future.  You can sign up for notification emails from them when they add new categories.
Oh, by the way, this one is free!
About the Author: Jerry is a 23 year veteran of the real estate industry and has done it all from listing and selling, to managing single and multiple offices.  He has been the IT Director for a major SF Bay Area company, and has also been the Training Director for another major SF Bay Area company.  In addition to writing this blog, Jerry is the Principal of Jerry Kidd Training and Consulting, specializing in showing real estate professionals how to utilize today's exciting social tools to create and nurture relationships with home buyers and sellers.  Visit http://www.JerryKidd.com to learn more about the training and consulting services offered.