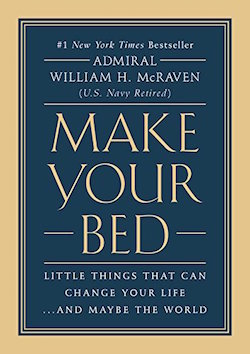 I want to recommend a book this week. In the past I have recommended books, but they have all been real estate specific books. This one is not.
The author of the book is Admiral William H. McRaven (U.S. Navy Retired) and is titled "Make Your Bed – Little Things That Can Change Your Life … And Maybe The World".
About the author: Admiral William H. McRaven (U.S. Navy Retired) served with great distinction in the Navy. In his thirty-seven years as a Navy SEAL, he commanded at every level. As a Four-Star Admiral, his final assignment was as Commander of all U.S. Special Operations Forces. He is now Chancellor of the University of Texas System.
The book was inspired by a commencement speech given by Admiral McRaven at the University of Texas in May of 2014.  Of course someone shot a video of the speech and posted it on Youtube.  It became an Internet sensation and went viral on Youtube.
Even though the author is a career military officer, this is not a book about the military or about war.  Instead, the author draws from his 37 year career and lays out Ten life lessons that anyone can put to use in their lives.
So why am I recommending that you purchase and read the book?  Good question.  If you are selling real estate I think that you will agree that your job is challenging.  Every day you have to meet and surmount obstacles.  Some of your doing, and some created by others.  How we deal with them is what ultimately determines our successes or failures.  McRaven gives you tools to take these challenges head on and turn them into wins.
Here are the Chapter Titles:
Start Your Day with a Task Completed
You Can't Go It Alone
Only the Size of Your Heart Matters
Life's Not Fair – Drive On
Failure Can Make You Stronger
You Must Dare Greatly
Stand up to the Bullies
Rise to the Occasion
Give People Hope
Never, Ever Quit!
If you'd rather just watch the commencement speech video, here is the link: https://www.youtube.com/watch?v=pxBQLFLei70.  It's only about 20 minutes long and it's time well spent.
But, if you want the background and the details of each of McRaven's points, buy the book. It's a very quick read. The link to it on Amazon is here: http://amzn.to/2spJMni
Whichever way you decide to go, you will benefit from the wisdom Admiral McRaven gives and your career and clients will benefit too!