I went to MacWorld 2010 in San Francisco on Thursday.  This being the first year that Apple wasn't going to be present, I wanted to see if the show would be better or worse that what I saw last year.
Being a relatively new convert to Macs (and an iPhone user since July 2008) I don't have a lot of experience with the show.  I did attend last year and was planning on attending in 2006 until a health issue derailed those plans.  So, I really only have the one year to compare with this year's show.
As my friend and uber Mac geek Ira Serkes puts it: "It was iPhoneWorld, not MacWorld".
And I would have to agree.
There were tons of displays on iPhone apps and accessories.  And tons of booths selling massage, chairs, luggage, clothing, bling and a myriad of things that made me go "hmmm".
But, precious little software or hardware that was specific to either my iMac or my MacBook Pro.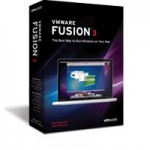 There was one ray of sunshine, however.  VMWare had a booth there and I stopped in to see them.  I was having an issue with the VMWare upgrade that I did on my MacBook Pro and was hoping that they could shed some light on the issue.  While I was waiting to speak with Amitabh Chakrabarty (The guy who knew the answer for me) I was asked about my usage of VMWare Fusion and was subsequently videotaped giving my answer (Maybe I will finally get discovered by Hollywood!).
After the taping and after the Q&A with Amitabh, I was offered a mystery coupon good for 5%, 10%, 50% or 100% off the purchase of VMWare Fusion 3.  You simply go to their online store, place an order and then put the code in at checkout to see what discount you will get.  Or, you can opt for a guaranteed 15% discount.
Since I already have a license for all three of my Macs, the coupon wasn't worth anything to me.  But, then I thought of you!  I asked him for some coupons to give away on my blog and he gave me three.
So, here is the offer, On Monday (2-15-10) I'll pick three people who leave a comment on this post and tell me why I should give them the coupon to receive one of the coupons.  I'll base my decision on the quality of your comment.  In other words, a one line "I want one" comment is simply not going to cut it!
Since the coupons expire on February 19th, you'll have to get on this right away!  The retail price of VMWare Fusion is $79.99, so depending on the level of discount you end up with, this could be worth $3.99, $7.99, $39.99 or $79.99.  Or you could take the guaranteed 15% discount, in which case the coupon is worth $11.99.
Not a bad deal for a few minutes of typing is it?