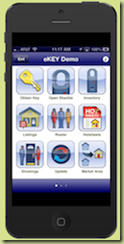 If you are an active real estate agent you know how important it is that you be able to access lockboxes when showing property to prospective buyers.
In the dim distant past we had physical keys that we carried to open lockboxes.  Then we got little electronic boxes that communicated with the lockboxes.  Once you snapped the device into a recess on the lockbox, it would open the drawer giving you access to the key.
Finally Supra, the maker of the most popular lockbox and key systems, came out with fob that could be attached to your car key ring and allow your smart phone to communicate with the lockbox.  This development was widely hailed as a boon to the agent who no longer needed to carry a separate device.  They were available for Android, Blackberry and iPhones.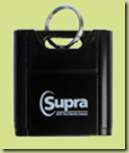 Then Apple came out with the new iPhone 5 and because the Supra eKey fob needed to plugin to the iPhone, users of the eKey system were warned to NOT purchase an iPhone 5 (by Supra and many local MLSs as well).  The reason?  Apple had changed the iPhone's design so that the new models did not have the 30 pin connector that the eKey required.  Instead Apple now uses a new connector called Lightening.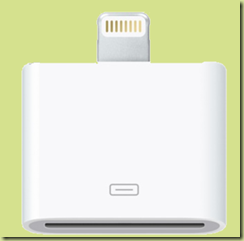 Fortunately Apple created an adapter (pictured) that bridges the gap between the old 30 pin connector devices (like the eKey) and the new Lightening port on the iPhone 5.  What wasn't so goo was the fact that there were only a very limited number of adapters available when the phones first started to ship. Because of that (and Apple's secrecy about the iPhone 5's tech specs) Supra had no way of knowing if the adapters would work with the eKey. 
I'm here to report that I have tested the eKey with the adapter and it does work.  In order to do so with your iPhone 5, you'll need to plug the adapter into your phone, then plug in the eKey fob and open the eKey app.  All of the features are available and it works well.
The down side is that you now have to shell out an additional $29.00 to Apple for the adaptor.  And you now have one more tiny thing to carry around with you!  But, on the upside, if you wanted an iPhone 5 and held off because of this issue, your wait is over!
I am still searching for a good solution to carry the Lightening adaptor…it's small enough to get lost in a purse or pocket, so some way of hooking it to a key ring like the eKey fob would be ideal…any inventors willing to jump on this?