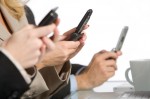 Ever since Apple announced the 4G iPhone earlier this month, I have been doing some research on which phone I might want to buy when my current contract runs out in early July.
And, with the huge assortment of really capable phones available, it's been an interesting process.
To start with, I took a look at a post that I wrote about how to choose a cell phone a few years ago.  It turns out that what I wrote then is still valid now. (Either click the link above or here: http://realtytechbytes.com/what-cell-phone-should-i-buy/ to read it.)  As it was then, choosing the right carrier for your needs is still the most important factor to consider.
To further aid the review process, I discovered that PC World Magazine's current news stand issue (July 2010) has a great review on the top 5 phones at AT&T, SPRINT, Verizon and T-Mobile on page 38 to page 42.  If you are considering a new phone, it would be worth picking up a copy.
If you don't want to buy a magazine, you could go to http://www.pcworld.com/products/phones.html where PC World provides a ton of info on buying a new cell phone, along with many reviews.
Having done all of my research, when it comes time to replace my nearly 2 year old iPhone 3G, I'll be going with the new iPhone 4G.  Even though AT&T is not my favorite carrier (that honor goes to T-Mobile), I am such a fan of the iPhone that I will sign up again.
I use my current phone to manage my calendar, pick up email from 5 different accounts, set appointments, record audio (It's surprisingly good at this), surf the web, interact with with my Google Voice Account, check time zones (family and friends worldwide), check weather around the world), track flights, do presentations, retrieve information from my Evernote account, listen to music and much, much more.  Oh yeah, I occasionally make and receive phone calls with it as well.  I have had very few calls that were dropped or garbled, contrary to what others tell me is their experience.
To all of that, the new iPhone 4G will allow me to record and edit HD video, organize files into folders, multi-task some applications, find my way around with the compass, take 5 megapixel pictures as opposed to the 2 megapixel pictures my current phone can do, use my Stowaway Bluetooth Keyboard and much more.
It's your phone, and it will be a part of your life for two years, so spend the time upfront in doing the research or you'll be spending a long two years with the wrong phone.
What resources or criteria do you use to choose a phone?