That's an odd question!  What do I mean by that?
The simple answer is that I want to know if you have a domain that you own.  Do you have an address on the Internet that you can use for your blog or website?  Do you have an address on the Internet that you can use for your own dedicated email address?
Maybe you already have an address, but now you want to expand your empire.  Aren't all the good names taken already?  How can you quickly do the research to locate an available domain name, and then get it registered without hours of trial and error?

I've got the answer here for you in the form of an online domain search that has quite a few very interesting features.  Go to https://domize.com to try out their "Fastest Domain Search Ever".  Just start typing in the name of the domain that you are thinking of and it will immediately start searching availability using one of five possible domain registrars.  By default it selects GoDaddy, but you can also search Dotster, Network Solutions and Moniker if you choose.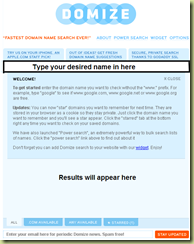 <– Here is a shot of the home page.  Just start typing and the site will start checking for you.  It will check availability of .com, .net, .org, .biz, .info, .us by default and you can also add .mobi if you wish.
Power search is a feature that allows you to bulk search lists and combinations of words to quickly check a large selection of potential domain names.
Add lists to your query by writing a list of words, letters or numbers separated by commas between a set of [square braces]. Enter "[red,blue,green]light" to search for redlight, bluelight and greenlight (.com, .net, .org etc.).
You can also call a few special functions:

* [like:word] will list synonyms of the word you enter
* [set:item1,item2,item3…] will list more of the same type of item
* [bulk:http://url/textfile.txt] will load a list of domains to check from the given url

They have also provided some pre-made lists to help you out:

[vwl] – Vowels -The 5 vowels of the English language: a, e, i, o u
[vwly] – Vowels (including y) – The 5 vowels plus "y"
[cns] – Consonants – The 21 consonants in the English language
[alpha] – Alphabet – All letters in the English alphabet
[digit] – Digits – All 10 single digits 0-9
[digite] – English digits – "one" to "ten", spelled out
[digite20] – English digits to twenty – "one" to "twenty", spelled out
[digite10s] – English tens – "ten","twenty","thirty"…
[ending] – Endings – Common word endings, "er", "ed", "ster" etc.
[prep] – Prepositions – Most common English prepositions
[color] – Colors – A list of common colors
[verb] – Verbs – A list of the most common English verbs
[phonetic] – Phonetic alphabet – The phonetic alphabet: "alpha", "bravo", "charlie" etc.
Once you have a name or a list of names that you want to register domize.com handles that by switching you to GoDaddy and starts the process of registration by filling in the name of the domain that you want.
This free, online tool makes very short work of researching and registering that perfect domain name.  What are you waiting for?  Go stake out your piece of the Internet now.