Last June I wrote about GrandCentral, the online Voice Over Internet Protocol phone system that Google had purchased.  At that time GrandCentral was in private Beta and the only way that you could use the service was if you were lucky enough to get an invite from Google.  Fortunately for me I had received my invite in October of 2007 and have been using the service ever since.  Here is a link to the June 2008 article: http://realtytechbytes.com/big-company-phone-features-my-kind-of-pricingfree/. It's still worth a read because Google has kept the features from GrandCentral which made it such a fabulous tool.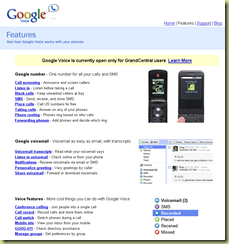 But, the new iteration, Called Google Voice takes a really great product and added some new features that makes the new product a real stand out.  Previously you could not send or receive a text message through the service.  You had to tell people your cell phone number if you wanted to exchange text messages with them which really defeated the purpose of just using one number.  That is one of the main ideas behind this product…just give out your Google Voice number and Google Voice will ring any or all of your phones when an incoming call arrives.
Another nifty feature is that Google will transcribe all the messages in your voice mail to text.  Although it's not yet perfect, Google promises that the accuracy will improve over time.
Yet another nice feature is conferencing calling.  You can add up to 6 people on a conference call!  What will this do to the companies whose business it is to sell conference calling?   The question is real because all that I have described so far is absolutely free, and Google says that it will remain free.  If you want to make International calls you will have to pay for them, but according to Google:
"You can place international calls from your mobile phone for pennies a minute instead of dollars per minute. You can purchase credit that allows you to make international calls. Rates vary by country and will be counted on a per minute basis."
Here is the fly in the ointment:  It's still not available to the general public.  Google says that it will be in a few weeks.  Right now they are converting the existing GrandCentral users to Google Voice.  My account was converted last week.  But, you can go to the site and pre-register.  Just click the Google Voice logo at the top of this post to go there.

Give it a try.  It's free and it works.