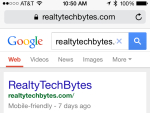 With Ninety-two percent of buyers using the internet in some way in their home search process and 50 percent of buyers using a mobile website or application in their home search, getting found via a Google search is critically important. (Source: NAR 2014 PROFILE OF HOME BUYERS AND SELLERS, page 6)
Reread the above sentence.  Did you notice this phrase: "50 percent of buyers using a mobile website or application"?
If you haven't already made sure that your website is mobile friendly, now is the time to do do, because Google recently announced that they will start labeling search results as "Mobile friendly" when it returns search results. (Think about this for a moment.  If you were searching for homes or an agent on your phone via Google, wouldn't YOU choose the result marked as mobile friendly?  I'm pretty sure that you would.  I know that I would, and I'm pretty sure that the public will as well.) It used to be that as long as the page could be comfortably viewed on a mobile device (think phone) without zooming and pinching, you were home free. 
However, in the announcement, Google laid out some additional criteria:
A page is eligible for the "mobile-friendly" label if it meets the following criteria as detected by Googlebot:
Avoids software that is not common on mobile devices, like Flash

Uses text that is readable without zooming

Sizes content to the screen so users don't have to scroll horizontally or zoom

Places links far enough apart so that the correct one can be easily tapped
And they further state: We see these labels as a first step in helping mobile users to have a better mobile web experience. We are also experimenting with using the mobile-friendly criteria as a ranking signal.
Whoa!  Google is giving you a look into their crystal ball!  If they are experimenting with using mobile friendly criteria as a ranking signal, your search results ranking could be negatively affected if your site doesn't meet the above criteria.
So what do you do to make sure that your site will meet the new criteria?  Simple, test your site!  Google makes it easy, just go to:
https://www.google.com/webmasters/tools/mobile-friendly/?utm_source=wmc-blog&utm_medium=referral&utm_campaign=mobile-friendly and enter in your website URL and click on "Analyze".
If you don't get a good score, it's time to get in touch with your webmaster and get the necessary changes made.  Chances are you will run into some foot dragging and excuse making as to why it's not necessary.  In that case refer them to the actual Google article at: http://googlewebmastercentral.blogspot.com/2014/11/helping-users-find-mobile-friendly-pages.html
If you still get some static, it's time to change web site providers.  I've done extensive research on companies who are in the business of providing websites to the real estate industry and I'd be happy to consult with you to help find a new provider.
At any rate, don't blow this off…your future income depends on this to a large degree.