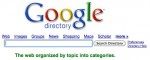 I was poking about on Google today, in a behind the scenes sort of way and somehow ended up looking at Google Directory.  Google Directory?  I didn't know that Google had a directory.  Like most of us, I know Google as a search engine par excellence, but as a directory?  Who knew?
What's the difference between a search engine and a web directory you might be asking? As usual, I headed on over to Wikipedia for the answer:
»A web directory or link directory is a directory on the World Wide Web. It specializes in linking to other web sites and categorizing those links.

»A web directory is not a search engine and does not display lists of web
pages based on keywords; instead, it lists web sites by category and subcategory. The categorization is usually based on the whole web site rather than one page or a set of keywords, and sites are often limited to inclusion in only a few categories. Web directories often allow site owners to directly submit their site for inclusion, and have editors review submissions for fitness.

»RSS directories are similar to web directories, but contain collections of RSS feeds, instead of links to web sites.  Go here for more from Wikipedia on web directories.
I did a quick search for real estate agencies in my area and found the results quite surprising because of who was listed, and who was not listed.  Here is the link to the spot on the directory where you can begin your search by selecting your state, then your county or locality. http://budurl.com/GoogDir
Are you listed?  Do you care?  Maybe you should.  From Google's help section on it's Directory I found this:
»The Google Web Directory integrates Google's sophisticated search te
hnology with Open Directory pages to create the most useful tool for finding information on the web. Key improvements include the following:


»Importance ranking. The Google Web Directory starts with a collection of websites selected by Open Directory volunteer editors. Google then applies its patented PageRank technology and other factors to rank the sites based on their importance. Horizontal bars, which are displayed next to each web page, indicate Google's™ view of the importance of the page. This distinctive approach to ranking web sites enables the highest quality pages to appear first as top results for any Google directory category.  (Did you catch the underlined words?  Human's rate the directory contents)

»Smarter search within directory categories. Google uses the advanced technology that powers its regular web search to learn more about each page listed in its directory. This capability enables users to search deeper within categories and produces more relevant results than any other directory search.

»Web search integration. Google's innovative classification technique connects regular Google search results with information in the Google Web Directory. This technology gives users one-click access from regular Google search results to the most relevant hand-selected web pages in the Google directory.

»Clean, uncluttered user interface. The Google Web Directory uses the same no-nonsense, user-friendly interface design that distinguishes the google.com site from other search engine sites.
You may also want to know how people can make use of the Google Directory. I did.  I figured that if Google didn't heavily promote it's existence how important could it be?  Here's the answer to that right from the Google Directory help page:
When would I use the Google directory instead of Google's regular web search?

The good news is that you don't need to choose between the two. Google's regular web search results are enhanced by information from the Google directory. Look for the addition of editorial descriptions and links to Google directory categories in some search returns. These additions mean that Google has found relevant information about that particular page in the directory and is bringing it to you. Click on the link to find similar pages in the same category or to find other categories like the one for your result.

While Google's regular web search is likely the fastest way to find information on a specific subject, the Google directory is particularly useful when you're not sure how to narrow your search from a broad category. The directory can help you understand how topics within a specific area are related and may suggest terms that are useful in conducting a search. It can also give you an idea of the scope of a given category, such as the number of newspapers in California.

Google's directory engine also lets you search within a category once you've decided on the specific subsection of the web that interests you. In this way, you'll get only responses that fall within that category. For example, you may want to search for teams named "Cougars" within the college basketball section of the directory only, instead of across the entire web.

Finally, you might prefer to use the directory when you only want to see sites that have been evaluated by an editor. The Open Directory project has 20,000 volunteer editors reviewing websites and classifying them by topic. Google's search technology lets you arrange those sites by their importance instead of alphabetically, which means you'll get the benefit of both human judgment and a sophisticated ranking algorithm.
That all sounds good to me. Google uses human editors to review the web sites that it includes on its Directory.  It ranks those entries based on human judgment and integrates the Directory results with its keyword based search results.
What that means to real estate people is that getting found on a Google search is something to strive for, but then having Google pass on it's opinion on the ranking of the search results delivered is something we'd all like to have.  Especially if Google determines your site to be an authority site.
So, how do you get your site in the index? From the very bottom of the Google Help page on Directories, we find this:
How can I submit a web page to the Google Directory?
The web pages in the Google directory have been selected by thousands of volunteer editors from the Netscape Open Directory Project. If you would like to submit a web page to be included in future versions of the directory, you may submit the web page directly to the Open Directory by following the instructions here.
If you go there and read all the steps, you may notice that it could take several weeks for them to even get to your submission.  No mention is made of how long it takes them to approve your site, but they do say that it could take several months before an approved site shows up on the Directories they serve.  From what I can see, a single submission gets your site (once approved) onto "AOL Search, Google, Netscape Search, Yahoo Search, and hundreds of other sites"
So why are you sitting there reading this?  Get cracking and get your site listed. It can't hurt and it may be just the little bit of information needed by a web searcher to choose you and not your competitor who doesn't know about this!