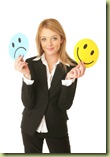 I have long held the belief that in order for me to be happy in my business life, that I really need to work with people that I like and to avoid those people who seem to make it their mission in life to grind down my soul.
I discovered that working for other people as an employee makes it difficult to avoid the people I don't like. After all, if I become an employee, then my employer gets to dictate who I work with. When I became an employee in the real estate business, I soon discovered that I needed to be a manager, in part because I could then hire the people that I wanted to work with or at least compartmentalize the ones that I didn't like.
As an independent contractor though, this process can be very easy…or extremely difficult. The choice is yours. The path to easy lies in a solid, effective plan for prospecting for the type of client that you want. Such a plan needs a few components:
It needs to be actionable

It needs to be realistic

It needs to be done with reasonable frequency (Everyday!)

It needs to be effective

It needs to be enjoyable

It needs to be inexpensive or free (Especially if you are starting out)
If you can implement such a plan, finding the right people to work with can be an easy and enjoyable process. If you don't have a plan, then you get to work with whoever shows up wanting to work with you! And that will bring you turkeys as well as eagles!
So much for your side of the story. But what is it like for the prospect trying to choose someone to "hire"?
If they are looking for a REALTOR®, they can look at magazine and newspaper ads, they can ask friends for a recommendation, they can visit open houses, they can rely on past transactions, they can visit web sites or they can use social tools.
Although all of the above methods work, the one that I believe benefits both the REALTOR® and the consumer is the social tools method. And here is why:
For the REALTOR®, the social tools method covers every one of the requirements of a good prospecting plan (see above).
But the consumer also benefits if the REALTOR® has done a good job of filling out their social graph. (More on that next week).
The consumer can interact with the REALTOR® long before they are ready to transact. That interaction will give them the time to study the REALTOR's® past performance, response time, marketing plans, resources and other tools that a REALTOR® uses to practice their craft.
You as a REALTOR® also get to examine the potential client as they interact with you! You can spot a turkey a mile off by using the social tools to look at them as well! Over time, birds of a feather will flock together!
So what are the social tools I recommend using? That will be next week's topic. If you want to be sure to not miss that post, go ahead and look at the top right of the sidebar on my blog and subscribe via email. (or click here) Or use your RSS reader to subscribe by clicking here.
And in the meantime, be sure to let me know what your thoughts are; am I on track or way off base?