With so much emphasis these days on the paperless transaction, storing things in the "cloud" and on mobile computing, I thought it might be a good idea to explore some ways to stay safe online.
During my research online I found many good resources for learning how to avoid making security mistakes.  But one source stood out for it's simplicity of use and breadth of coverage.  And that would be a source from Google called "good to know". http://www.google.com/goodtoknow/
The site uses video, pictures and text to explain things in four broad categories: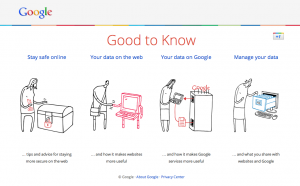 Each of these categories is explained completely in a way that any one can understand.  The advice offered is accurate and straight forward and if you will actually look at what is offered and implement it, you will come away with the knowledge you need to stay safe online.
Along the way you can learn about Google + and the + Button, location services, search history, how Google looks at search and even a bit on advertising.
Check it out.  You can thank me later!