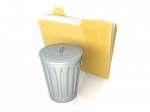 If you use a computer for any length of time, you eventually start to accumulate all sorts of useless files on your hard disk.  The biggest junk file creator is your web browser.  Every web site that you have visited leaves behind a file that is the exact duplicate of the site that you visited.  If you've been browsing for years and have never cleared your web browser's cache files, you are probably storing gigabytes of useless files on your hard drive.  And that is space that you can't use for important things like music, pictures and business related files.
Another source of junk files occurs when you delete programs.  The uninstall process is never as thorough as one would like and fragments of programs get left behind.  And the list goes on.  Back in the dark ages when I was a Windows user I relied on a product called "Crap Cleaner" which was later renamed CCleaner, probably in an attempt to be politically correct.  It was great.  Once you downloaded it and installed it, it would analyze your hard drive and then give you a list of the junk files that it had found.  You could choose to have them all removed or you could be selective about it.  You could also ask it to analyze the Windows registry and clean it up as well.  I loved that program and ran it at least once a week.
When I moved to the Mac platform CCleaner was one of the things that I had to leave behind as they did not have a Mac version.  Yes, Mac's create junk files too!
But, all of that has recently changed!  Piriform has released a Mac version that is free, as is the PC version and it works as well on the Mac as it does on the PC.  Since the Mac doesn't have a Registry, there is no option to repair the registry.  The Mac does have issues with file permissions and when these get out of whack strange things can occur.  CCleaner for the Mac will repair file permissions so running this frequently on the Mac is a good idea.
The last remaining tug at my heart from the PC world has now been removed.  CCleaner from Piriform belongs in your arsenal of maintenance tools whether you run a PC or a Mac.  And the price is right too!  It's FREE!
Get the PC version here: http://www.piriform.com/ccleaner
Get the Mac version here: http://www.piriform.com/mac/ccleaner