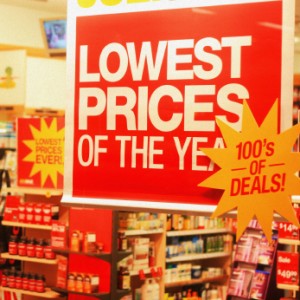 It's that time of the year! Thanksgiving is only 10 days away and that means that Black Friday and Cyber Monday are 11 and 14 days away as well.  I shouldn't have to tell you what they are, but if you need a refresher, here are links to Wikipedia articles that will fill you in on what they are.
I've been told that these two days can "make the year" for some retailers, with many of them selling more product on one day than they do all year.  To help fuel those sales, the retailers offer huge discounts to shoppers who can take advantage of the deals.  Part of the problem has been getting prepared in advance.  If you have to wait for the sale flyers to actually show up in your newspaper, it's difficult to plan your buying strategy.
Here is a list of some sites that actually purport to have advance copies of retailer's Black Friday and Cyber Monday Ads.  Take a few minutes and look at each link and decide which one you like best.  Most of them give you a way to sign up for email alerts when they get new ads (I don't advise this as it is an open invitation for spam), some let you follow them on Facebook and Twitter (caution advised again) and for the others, just book mark them and check back frequently.
Black Friday Sites:
 I've located a Black Friday Facebook Page with over 100,000 followers as well as a Twitter Black Friday account.  I couldn't find a Facebook Cyber Monday page with any significant number of followers but I did find a Cyber Monday Twitter account to follow.
Cyber Monday Sites
Tip: See if your favorite store has a Facebook Business page that you can "Like" to get updates on sales for Black Friday and Cyber Monday.  Also, follow your favorite store on Twitter to see if they Tweet any Black Friday or Cyber Monday deals.
Additionally, many retailers are running "Friends and Family" sales in advance of Black Friday.  It seems that everyone is willing to give you very large discounts in order to get you to part with some money.  So, if you have been putting off that technology purchase, it may be time to pull the trigger.  And, the good news is that if it is for your business, there may a tax deduction available for doing so.
If you know of some great Black Friday or Cyber Monday deals, be sure to post a comment and share the wealth with everyone!