I spent a very enjoyable day on Thursday at MacWorld/iWorld as two friends and I wandered the aisles of the Expo and took in a couple of classes on the second floor.
Last year's MacWorld was renamed "iPad Case World" by another friend because it seemed that nearly every vendor was selling some sort of iPad case or accessory.  Because of that he decided to not attend this year's event.  Big mistake my friend, because this year there was balance between iPad/iPhone/Mac hardware and software.  Some pretty amazing products were on display in all categories.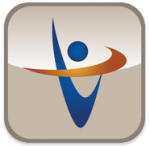 The one that really captivated me though is an app for the iPhone (an iPad app was announced but as of this writing it hasn't appeared in the app store) that claims to be the first full featured contact manager app for the IOS 5 platform.
It comes both as a "Lite" version (FREE!) limited to a maximum of 100 contacts, and a Pro version with no such limitation (I managed to load over 3500 contacts with no problems).  The price is $4.99 for the Pro version but is expected to double by March 1st.
What makes this interesting to me is that you open the app into a dashboard that says:
"Hi!  Today you have X Calls, X Meetings and X ToDo's. 
This may seem trivial until you realize that you'd have to open 3 different apps on the iPhone in order to accomplish the same thing!
Contacts can be organized into groups called "Orbits" and can be color coded so that you can see how they are organized at a glance.  You can message the Orbit in a single or group emails, send them a Facebook or Twitter message or even start a Skype conversation.  Every time that you use the app to initiate a conversation it get's logged so that you have a record of what you have done.  Contacts are imported from Address book when you set the app up and are kept updated as you make changes in Address book.
The Calendar function is imported from iCal and as with the Contacts, any changes or additions to a contact via the Calendar function get logged automatically.  There are many other features that would be useful to a real estate agent, so head on over to http://www.viporbit.com/features to learn more.
In my opinion, this was the best app on the Expo floor by a long shot.  I see it giving you the best contact and calendar management features of products like Top Producer, Act, Goldmine and Salesforce at a tiny price and on your phone at that!