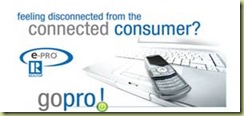 Many of you know that I am an ePro Certified Trainer, and as such I have been able to offer you a $25.00 discount when you sign up for the National Association of Realtors® ePro course.
I have always felt that having an ePro was a very smart move for all Realtors® for a variety of reasons and have urged all practicing real estate agents to obtain one, even if you already were an expert in using technology in your practice. However, in recent months the ePro course has come under fire because some pundits have felt that it was behind the times as regards the new social media tools that are all the rage today.
There may have been some truth to their allegations, although in my opinion, the basic course was and continues to be a sound platform for all agents to build on. The modules on effective email use, Internet marketing, hardware/software needs and planning are just as relevant today as when they were first written
But, John Reilly, one of the Principals at InternetCrusade, announced on Friday, July 17th, the release of the newly formatted ePro Course and the launch of the all new "Web 2.0 and Social Media Course for Realtors®!"
Here are some of the highlights of the new program:
Introductory pricing for members of NAR until October 16, 2009

(Existing ePros get special pricing on the new Web 2.0 course)

Included in that price is the new "Web 2.0 and Social Media Course"

If you attend a workshop that I put on you will receive 8 months to complete the course instead of the normal 6 months

They continue the offer of a free website for 90 days via Point2 for anyone attending one of my workshops.
As always, the workshops are free to attend and just for attending you will receive the free (for 90 days) Point2 website along with other valuable information that is sure to help your business…even if you don't sign up for ePro.
Given that the introductory pricing is the lowest that I have ever seen for the ePro course, and that you also get the "Web 2.0 and Social Media Course for Realtors®" along with the free (for 90 days) Point2 website, I can't see why you wouldn't attend a workshop.
Just one little factoid for you before I go, NAR's most recent Survey of Home Buyers and Sellers (free download for NAR members, click here – requires sign-in) tells us the following three facts:
61% of all homebuyers were between 18 and 44 years old

41% of all homebuyers were first time buyers

86% of those first time buyers were between the ages of 18 and 44
People in those age brackets are very comfortable with using social media tools and they have an expectation that their Realtor® will as well. Even though you may think that your clients don't use those tools today, are you quite certain that they won't in the future? If you plan on being in the business for any length of time you can be certain that your future clients will want this level of communication from you.
I hope to see you at an ePro workshop soon!