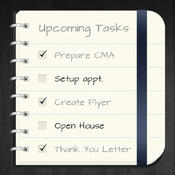 While noodling around the Apple App store recently, I ran across a cool little iPhone app (sorry Android users) that aims to make life a little easier for real estate agents.
It's called Real Estate Agent Assistant and it is offered by AppEzzy, an app developer who has quite a stable of apps for sale.
Real Estate Agent Assistant will set you back $2.99, and in my opinion, is worth it … if you need a real estate specific task manager that integrates with your calendar.
Here is what it does (from their website):
Real Estate Agent Assistant was created to help agents keep organized and focused on what needs to be done for every client. This is a quick and easy way to create a series of tasks from any client project that will import to your Google Calendar. With just a few taps on your iPhone, it will create a series of predefined events on your Google calendar. Simply create a new project, pick your workflow and start date. The app will do the rest and populate your calendar with all of the necessary events that you need to finish the job! It's a great way to stay organized and each project can be customized to fit that specific clients needs. Real Estate Agent Assistant is simple to use yet powerful.
With Real Estate Agent Assistant, all you have to do is name your new project, tap the new listing workflow template and in a matter of seconds you will have all of the tasks on your Google calendar. And if you use Google Sync all of this info will also synchronize automatically on your iPhone's native calendar.
Real Estate Assistant comes standard with 4 sample workflows; New Buyer, Pre Listing, Listings and Marketing the Listing. There are over 60 pre-set tasks already setup for you and you can edit these or add your own as needed. You can also create as many new workflows as you need.
After you have entered in a Project it will not only be added to your calendar but also the "Upcoming Tasks" page of the app which serves as a quick To-Do list. Here you can see what tasks are due today, overdue or in the future!
Go their website at http://www.appezzy.com/apps/real-estate-assistant to see screen shots and get more information.  And here is where you can find it in the app store: https://itunes.apple.com/us/app/realtor-assistant/id371613285?mt=8
I think it's a pretty cool app.  What do you think?