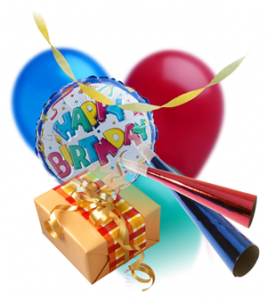 If you knew that today was my birthday (it isn't) wouldn't you say Happy Birthday to me?
Of course you would.  The problem that you would have though is knowing when my birthday was so that you could wish me Happy Birthday.  Fortunately Facebook has a solution.  They conveniently let you know every day that one of you Facebook connections has a birthday.  That is pretty good info to have, because it gives you the opportunity to click on the person's name and go to their Facebook timeline and leave a birthday greeting.  Doing so let's that person know that you were thinking of them.  It's also visible to any of their friends that died to leave birthday wishes as well.
There is one problem though, and that is you have to remember to log into Facebook every day and look for the birthday reminders.  (Hint: they are in the right sidebar of your Facebook Home page. Just click on Home at the top next to your name if you aren't already there)  Anyone of of your connections who is having a birthday will be listed there.  Just click on their name and go leave a birthday greeting!
As an alternative, you can use the FREE service at http://birthdayfb.com/pages/signin.html to automate the process.  Once you sign in using your Facebook credentials, the system shows you a list of your friends with their birthdays listed in chronological order.  You can then schedule a custom message to be delivered to them on their birthdays.  I've gone out a month in advance, but it looks like there is not a limit on how far out you can go.
One big difference from the manual method is that instead of posting your birthday greetings on THEIR Facebook timelines, the greeting gets posted on YOUR Facebook timeline and the the person gets "tagged".  Getting tagged means that Facebook will notify them via email that you have tagged them and gives them a link so that they can see what you said.  They can then like or reply to you.  One side benefit is that I have noticed that sometimes the birthday person has friends who use my post to add greetings of their own. It looks like this gives them a chance to see me and perhaps connect with me.
The down side is that the posting gets done on your wall and not the birthday person as in the manual method.
There is a very good FAQ section on the site which should answer all of your questions.  You can find it at http://birthdayfb.com/pages/faqs.html
At this point, I can only see upside benefits to using this.  After all, who doesn't like getting birthday greetings?  It sure beats the alternative of not being alive to celebrate birthdays! And, it gives you an easy way to get your name (and face) in front of people!