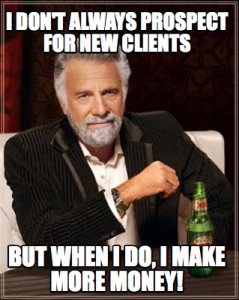 One twelfth of the year is gone already!  Are you one twelfth of the way to your 2016 income goal?  If you are not there yet, read on.  I may have a few ideas that can help you get there.
In my coaching practice lately, almost everyone I have been helping has asked me how they can get more business.  My answer is always the same:
"Find a way to prospect for the people that you want to have as clients that is effective, and that you will do every working day."  It really is that simple.
The problem that I see that most people are having is coming up with methods that they will actually do.  There is no sense in planning on knocking on doors for two hours a day if you know you hate doing that.  There is no sense in planning on making 100 phone calls a day if you know that you can't even make the first call.
Likewise, don't plan on buying leads or advertising for leads or sending direct mail if you don't have the cash reserves to sustain a 6 month or more effort.
So what can you do?  As it turns out, there is a wealth of ideas on client acquisition techniques available to you on the internet.
Here are seven websites that (between them) have well over 100 prospecting ideas.  Check them out.  Hopefully there is at least one method that appeals to you, and that you will consistently do every working day.
If you take the time to click on each of the links in this article and read the resulting information, I guarantee that you will find something that you can do to find more clients…if you commit to actually doing it.
On the other hand, if you can't find something that you like or that you are willing to commit to doing, maybe real estate sales is not the right career for you.